Moving around with your dog on a leash is a lot different from driving around town with your dog in the car. Walking around can be said to be a natural phenomenon for dogs. The same, however, cannot be said about moving around town with your dog in the car.
So long owning a dog is concerned, there are quite a number of phenomena that are considered severe. Moving around with your dog in the car is one of them. When riding around town with your dog in the car, it naturally will be uncomfortable.
There are certain things you should do to ensure its comfort. These things include providing food and water, stopping very frequently for potty breaks, taking care of motion sickness, and ensuring it is settled once you get to your destination.
Dogs need to be kept in a stable condition when traveling in a car. That, however, is not all you should be concerned about when driving around with your dog. You should also be concerned about the safety of your dog as this is of utmost importance.
The reason for this is cars were not made for dogs. So, the car safety features that they come with do not favor dogs. The implication of this is if a car carrying a dog gets involved in an accident, there is a considerable likelihood that the dog will get injured in its neck, back, and head.
5 Different Ways To Travel Safely With Your Pooch On The Car
In addition to getting injured very severely, if a dog is unrestrained in a moving car, it can possibly cause a lot of harm to humans in that car. This is one reason dogs should not ride in vehicles without any extra measures being put in place. To ensure that dogs are kept safe during a journey and also do not pose any threat to those in the car with them, they should be restrained with the use of a dog car seat, dog seat belts/harness, and dog kennel.
1. Dog car seats
Unlike dog seat belts, which were designed to be used by big dogs, dog cars seat is more suitable for dogs of small and average sizes. They basically come in the form of comfortable beds and are stabilized with a car's seat belt. They have some similarities with children's car seats and function the same way. Dog car seats are known to come with a full-body dog harness.
Snoozer Lookout Car Seat
All of our furry friends love to heads out the window. A pet car seat can ensure your dog travels with style. Are you looking for the most comfortable way for your pooch to travel during long trips? A dog car seat will allow traveling with pets comfortably and keeping them safe in the car. The Snoozer Lookout safety seats were designed to reduce car sickness and anxiety.
The sherpa interior will serve as the most comfortable spot for your pooch during long trips. Hence, you can drive without worrying about your dogs behavior because they would love to stay in their comfy car seat. No more leaning to try to look out of the car window. Also, it comes in various colors to match the interior of your vehicle. By far, the Snoozer does a fantastic job securing your dog and making sure that you get to your final destination with your pet safely.
2. Dog seat belts
Dog seat belts do precisely for dogs what regular seat belts do for humans. They connect a strap that has a buckle to a car's proper seat belt device. When there is a sudden stop or a sudden change in the speed of a moving vehicle, the dog seat belt acts as a leash and keeps the dog in place.
Sleepypod Clickit Dogs Safety Gear

Every pets safety should be a priority. All dog lovers should consider utilizing different mechanisms for keeping dogs safe in cars. This amazing product has been crash tested, and it is considered to be the next generation of safety harness. No matter what, as dog lovers, we need to make sure we drive safely. However, wouldn't it be nice to feel secure when you hit the road? A loose dog becomes a problem even on a short car trip. This harness prevents any form of movement of significance when the speed of a car changes.
Traveling with your dog can be fairly complicated. The Sleepypod Clickit comes in various sizes to fit small dogs from 16 inches and also larger dogs up to 40 inches. The neoprene vest supports both walking and seatbelt harness. Also, it can be easily attached to the cars seat belt with an infinity loop system that has different points of insertions. This car harness will make you feel safe and secure and prevents your dog from getting injured from damaging forces during car crashes.
3. Travel crate or kennel
Regardless of the method you use in keeping your dog safe when driving, the aim is to always ensure that the dog is kept secure. This includes keeping the dog in place without it feeling uncomfortable.
AmazonBasics Portable Travel Crate

One way to ensure that your dog is kept in place while traveling on a car and does not feel any discomfort is to keep it in a kennel. In addition to keeping your dog safe, when a dog is kept in a kennel, the likelihood of your dog being a distraction to you is significantly reduced.
Furthermore, if an accident occurs, the chances of your dog running off the accident scene because it is panicking are decreased considerably. If a dog is not kept safe and an accident occurs, it could run off the scene of the accident and could get knocked down by a car or even be lost.
Although the different methods of keeping a dog safe are all effective, there is a higher chance of a dog surviving in a high-speed car accident when kept in a kennel over when other forms of dog safety are used. If you ever get distracted driving, dog crates will protect your dog.
4. Back seat hammock
A back seat hammock is excellent for older dogs, as they might often feel like lying down. With a hammock, when a dog lies down on the back seat of a moving car, it will not need to worry about falling off the seat. A hammock works as a back seat cover that protects your back seats from long pet travel adventures.
URPOWER Upgraded Dog Hammock

This hammock prevents the dog from getting into the front of the seat. When looking to get a hammock for your dog, you should buy one that does has a non-slip covering. This way, you won't have to worry about your dog sliding off the seat as the car moves.
Once you have your back seat hammock ready and are looking to fit it into the back seat for your car, you should fix the anchors between the base and the back of the seat. This should be done just after laying the quilted part of the hammock on the back seat. Finally, get the fastener attached to the front headrest and the rear. Try to combine this a harness to protect your dogs body.
5. Leash and zip line
If you do not want to have your dog with all the car restraints, then you might want to check out a leash and zip line. This is another less safe alternative to traveling with a pet in your vehicle. Also, when it comes to making a car ride less stressful for dogs, a zip line with a harness works just fine because it gives your dog more freedom. For larger dogs like the German Shepherd, we recommend using this method in combination with a hammock to protect your car seat fabric.
Dog Seat Belts vs. Car Seats (Which One Should I Use?)
It is not out of place for people to want to keep their dogs safe while moving in a car. However, almost no-one knows how to do this in the best way possible. When traveling with a dog, the best thing to do is to ensure that your dog stays in the back seat. However, if you already have your back seats fully occupied, there are other things you can do.
Although dog seat belts work for various dog sizes, they are most suitable for large dogs. To ensure the right level of comfort for dogs, they should be kept in place with a dog seat belt, and it is essential that the dog seat belt is extended. It should be long enough to provide the right comfort but not too long so it can keep the dog from bumping into the seat in front.
Before going ahead to make a choice of the best way to keep your dog safe when in a moving car, you should seek the help of professionals on the most reliable safety alternative for your puppy. When you visit the Center for Pet Safety to get the best form of protection for your dog, various travel harnesses will be tested with dummy dogs. After this is done, the Center for Pet Safety will give you a product that is best suitable for your puppy.
Important Dog Car Safety Tips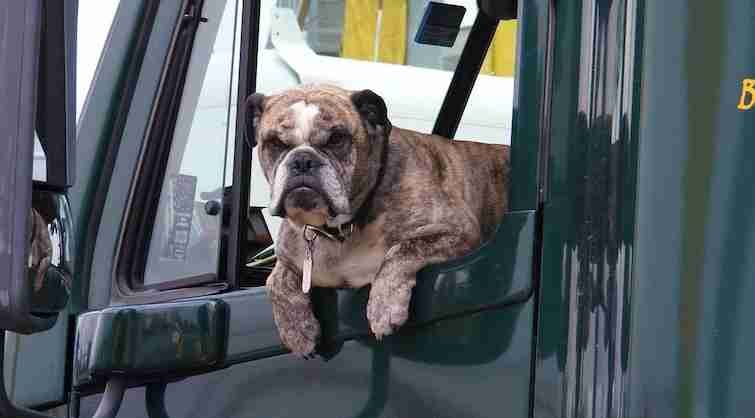 Beyond making use of specific safety equipment in keeping your dog from harm's way while on a ride with your dog, there are particular tips, you should be aware of if you must always keep your dog safe while in your car. While safety harnesses can keep your dog safe in the event of a change in speed or a crash, it is essential that you do not leave your dog alone in the car.
If you are out of your car for a short while, your dog also should be kept outside your vehicle. This is true even with a cracked window. This is because the temperature out of the car and the temperature in the car are never the same. In less than forty-five minutes, it is possible for the internal temperature of your car to increase by more than 40 degrees, and this can be dangerous for a dog locked up in a car. Furthermore, the extreme cold might not be very suitable for your dog.
Back seat barrier
A back seat barrier might not be needed by puppies. It, however, is a great way to keep larger dogs safe while riding in a car. Large dogs need back seat barriers because they find it difficult to relax when they are restrained in a moving vehicle. This barrier keeps your dog on its seat when you suddenly apply your brakes. To get the best out of the use of this barrier, ensure you fit it properly before driving off.
Why is a car restraint important?
When dogs are left alone in the car, they could distract a driver while this can be said to be the most likely thing to happen when driving without any form of restraint, dog seat belts and other restraints will keep this from happening.
Although restraints can keep your dog from distracting you, they can't keep you from always checking on your dog while driving. If you must avoid accidents while driving with a dog in your car, as soon as you make use of a form of restraint, you do not need to have your eyes on your dog. Your eyes should be on the road.
One other thing you should do when driving with a dog in your car is to always have a canine safety kit. This kit should contain a dog first aid kit, an extra meal, dog treats, dog toys, a dish, some water, dog poops bags, an extra leash and dog collar, and a towel or blanket. When you have all this with you, a change of plans will not have a massive effect on you.
Wrapping It Up
It is extremely dangerous for dogs to travel in the passengers seat. Front seats are equipped with airbags, which represents a huge risk for your pooch in case of an accident. Also, the American Veterinary Medical Association recommends purchasing crash-tested safety harnesses and kennels to transport your pets inside the car safely. They recommend securing any travel crate, and your pets car safety depends on it.
Also, you should avoid traveling with your pet on the drivers lap. A car barrier can help protect your dogs life during long dog rides. Some people prefer using a dog car seat to reduce the chances of anxiety problems and to maintain the overall dog psychology health intact. We hope that you like this puppy care travel guide to drive with your dog securely.
Last Updated on 02/05/2020 by Karen Snow

Hi! I'm Karen and a certified dog lover. As a freelance writer and blogger, I do my best to squeeze in some time with my dogs, learning more about the way they act and how I can make sure that they continue to stay well-cared for by yours truly.
My dogs have helped me through a lot, and this is my way of giving back to them! Besides animals, I also love to travel and cook, having explored my country's restaurants and unique places. Follow me as I show you all the amazing tips and bits of information I learn along the way about our furry friends!