We all have at least one friend who wouldn't mind spending hours cuddling his cute pup instead of enjoying brownie, and hanging out with friends. For such people, the happier their dog, the more content they are. If you also have someone in your life having immense love for his/her puppy, with nothing, you can make that friend more content than gifting products that benefit the cherished pet. Here you are going to learn some of the best dog birthday gift ideas for your pooch.
You can go for a traditional calendar with puppy pictures or make him/her feel more special with customized products both for the pup or the master. Selecting a gift for a pooch or a puppy lover seems critical, especially if you are not a pup person or love cats. You require a lot of things to think, the breed, personality of the pup and his owner, and many more!
To help you out, we have come with 15 incredible gift ideas for both dogs and dog lovers of your life. Or if you are that puppy person, present these marvelous pieces to your canine friend to pamper him the way he deserves. From excellent quality dog leashes to a customized leather journal cover, we have covered every opportunity to ease you select the best presents for both of them!
Top 15 Best Dog Birthday Gift Ideas
Who doesn't love gifts? But when it is intended for a pup owner, you may feel yourself in a hassle. Don't worry. Check out the marvelous gift ideas we have enlisted here to find the best one. They are useful, fancy, and won't even break our bank. Be it the National Dog Day, a Christmas gift, or any other occasion; these presents are excellent to surprise both the puppy and his owner. So, let's get into our gift guides!
1. High-quality Dog Collar
It is a very significant thing that every pooch owner needs to get one for his/her canine friend. So you can present your friend a quality collar for his puppy. You will get a variety of perfect dog collars, both online and pet stores including, studded, spiked, decorative, and made of various materials, like nylon, leather, faux leather, and many more. When you think of the quality, nothing can match the leather.
It is durable, doesn't cause itching or inflammation around the neck, and feels comfortable. So the pooch won't feel anything around his neck and can carry the collar conveniently. Before you buy a leather collar, don't forget to consider the measurements of the pooch so that the collar easily fits his neck. You can also present studded or spiked leather collars to provide him with additional safety. Make sure it comes with a GPS tracker included.
2. Dog Leashes
Another vital product you can pick! As soon as someone thinks of bringing a loving pup, he/she needs to think of getting a quality leash for training, restraining, or exercising purposes. If your buddy has just carried a puppy at home, don't miss the chance to surprise him/her with leashes. Leashes get damaged as the puppy may chew it, or drag it. So, go for an enduring leash made of quality leather that will not only last for long but also look stylish on the pooch. You can even personalize them and get a pair with a collar.
3. Dog Comfy Bed
A bed can be handmade, luxurious, costly, or even between them. So you can effortlessly get one within your budget. Now, there are a variety of ranges of beds. It can just be a flat mat, nesting mattress, cuddler, or bolster bed. If your buddy's canine has medical issues, an orthopedic bed, a heated, travel, waterproof, or cot-style bed would be a fabulous gift. A homemade bed is an incredible choice to go for a cost-effective dog bed. The only thing you have to ensure is that the covers of the bed should be removable and washable.
4. Dog Toys
It is another essential thing a pup lover would love to get. Every pooch needs a range of stuff to play with to be calm and maintain emotional balance in daily activities. But if you have decided to surprise your friend with pup toys, make sure you select the perfect one that matches the size of the mouth of the pooch.
If the toy is too little compared to the mouth, the pup can swallow it, and cause destructive outcomes. You will find varieties of toys, including stuff, distraction, chew, or stimulating ones. Consider the personality and age of the pup into account to get the most suitable and durable toy for him. A rope toy is extremely useful for all dog breeds.
5. Pet Carrier Bags
If your friend loves enjoying outings with his/her pooch, nothing can be better than surprising your buddy with an appropriate carrier bag. Don't forget to estimate the size of the puppy so that he can conveniently fit into it. You can also get a backpack or airline travel bags of various designs compatible with the size of the canine.
6. Dog Books
Puppy lovers love such books. You will find an enormous range of fiction, non-fiction, training books, vet advice books, dog grooming instruction books online or stores. Something else to consider is to combine the book with a puzzle toy to satisfy both the dog dads and the furry friend.
7. Personalized Clothing for Both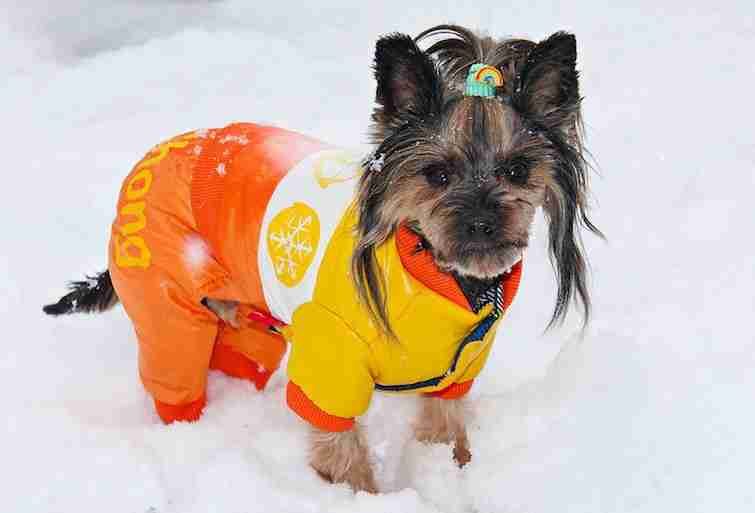 If your friend loves enjoying outings with his/her beloved canine friend, you can give the pooch some warm clothes. Well, you can go a step ahead and personalize the same sweater or t-shirt for both of them. A pooch lover would surely admire such a pleasant present! Before that, make sure the fabric is of superior quality, so none of them feel uncomfortable and also fit them properly. An item of nice personalized clothing will make any pooch look unique when they go out to the dog park.
8. Stylish Tags
If you run out of money yet want to get something useful, you can choose a stylish tag for a pup owner. They are not only budget-friendly but also come in great use. Tags ensure security holding relevant information and also makes the canine look smart and elegant. You can personalize them with photos, a logo, or choose bright-colored fun pieces. You can also combine the tag with a birthday bandana.
9. Personalized Puppy Treat Jars
Treat jars are of great use to any pooch owner. They are cost-effective and look stylish. While buying a treat jar, buy a ceramic one, or you can personalize it printing the pictures, names, or beautiful quotes. This can help owners to take beautiful pictures of their loved ones and post them on their Instagram account in their top stories.
10. Personalized Dog Bowls
Dog bowls are another budget-friendly yet essential thing you can present. A food bowl is not merely a bowl to a canine owner, especially when it is for his/her beloved friend. You will find a variety of food bowls made of plastic, ceramic or stainless steel. Prefer gifting a food vessel constructed of stainless steel as it is safe, durable and doesn't cause chin irritation that plastic bowls may cause.
11. A Set of Collar, Lead and Belts
Want to amaze a pooch lover? Gift him/her a set of collar, lead, and belt of the same color and design. He/she will surely love it! Leather is the best material you should choose as leather made accessories are comfortable, durable, lightweight, and look stylish. You can customize the handmade leather belts with the collar to suit the specific need.
12. Ball Launcher
Gifts for dog lovers will go hand on hand with their dog breeds. A ball launcher is a great toy that could be very useful for those pet lovers that cannot throw tennis balls or a toy on a far distance. We love this particular device because it can provide the pet owner with a tool to help their pooch exercise daily. It can be used immediately on your pet's birthday party. As far as brands, we recommend checking the iFetch interactive ball launcher.
13. Pet Picture Frame
A pup lover would love to give his/her house a touch of his canine friend, right? Make such a friend happy presenting him/her pet picture frame, adorning it with the picture of the canine. You can make your friend feel more special with a photo frame that holds the image of the canine one side, and the paw-print on the other side. It is an inexpensive present that you will readily get one online or at pet stores.
14. Dog Camera

Our four-legged friends can get lonely when we leave the house. A dog camera will help every dog owner to keep an eye on their loved ones even when they are at work. It is a great gift for fathers day or mothers day that you should keep in mind. Most of the cameras available on the market will come with a personalized application that you can download from the app store. We can almost guarantee that you will make the dog dads very happy with this birthday present even as a dog Christmas gesture.
15. Grooming Equipment
They are essential pieces of equipment you can get for a pooch lover. Canines need periodic grooming sessions to maintain a healthy life. Whatever the breed the pooch belongs to, a set of some necessary equipment would surely come in great use. Make a grooming set including a fine-toothed comb, brush, pet shampoo and conditioner, toothbrush, and nail tripper and day gift it to the pup lover in your life!
Tip: Read our post Can a cats eat peanut butter?
Things that you cannot give your dog on his birthday
Some pet owners like to compensate their pooch with a dog birthday cake. According to thedailymeal.com, you should never give your pooch a cake to eat no matter what dog breed you have. Unless you improvise and make a cake from homemade dog treat recipes that are safe for your pooch to eat. If you want to feed your dog with a homemade cake, be careful when you light the birthday candle.
Another thing to avoid giving your pooch on his birthday is the ice cream mix. Believe it or not, ice cream can cause gasses on your pooch, and it could make your dog stomach swollen. Instead, stick to giving your pooch dogs chewing treats, unless you purchase a special ice cream mix like the Puppy scoops brand.
What can you give to the dog owners?
Pup lovers are obsessed with their favorite pets. They adore collecting and organizing the life events of their love. If you have such a puppy lover friend, give him/her an effective way of tracking the pooch's life, a dog journal. Buy a journal that covers various subject sectors, including breeds lists, checklists, training log, grooming and vaccination schedule, keeping sweet memories, and many more.
You can even personalize the cover of the journal with the pictures of the puppy or quotes so that it amazes your fellow a bit more! Leather journal covers are of excellent quality and look stylish, giving the journal an aristocratic appearance. Also, a dog DNA test kit can be a useful gift for dog owners. They will be able to find out the history of their pooch with digital editions and portals.
Paw-print jewelry is something very exceptional, right? You will find various online stores or shops selling customized paw print jewelry that the puppy lover will surely love to get. Such stores offer their design, but you can also personalize your own. Paw-print stud earrings, pendants are great to make a pup lover feel special. These are all great dog gift ideas to give to the owners.
Wrapping It Up
These are some of our well-researched ideas to help you out selecting the best and useful gift for both canines and canine lovers. They range from luxurious to budget-friendly options, so you find no dilemma finding the best one. Gifts for dog owners can also be a nice gesture. Long-lasting chews would be great gifts that can be used as birthday treats or even to make a small birthday cake for your pooch. The previously mentioned can be fun Christmas ideas for your dog when it comes to buying them a gift.
One of the most popular toy brands that you need to look for is the Haute Diggity dog brand. They have the best plush dog toys on the market for an affordable price. Another popular thing to gift your dog if a power chew textured toy. Also, there are plenty of subscription boxes available for your pooch. I hope you loved our toy recommendations for dogs, dong forgets to say happy birthday, and feel free to check our Instagram account.
Last Updated on 13/05/2020 by Karen Snow

Hi! I'm Karen and a certified dog lover. As a freelance writer and blogger, I do my best to squeeze in some time with my dogs, learning more about the way they act and how I can make sure that they continue to stay well-cared for by yours truly.
My dogs have helped me through a lot, and this is my way of giving back to them! Besides animals, I also love to travel and cook, having explored my country's restaurants and unique places. Follow me as I show you all the amazing tips and bits of information I learn along the way about our furry friends!