Health treats are important for your dogs because they can help you pamper them. It has become one of the most important priorities of pet owners in recent times. People love to spoil their pets occasionally with special treats. It not only strengthens the bond but your pet has always something to look forward from you.
However, when you go to the food stores and online marketplace, you will find hundreds of dog treats. Instead of choosing any branded pet treats, you can opt for easy homemade dog treats recipes. They are simple to make and is healthy for your dog.
There is no need to spend money on dog products anymore. You may make homemade recipes that suit your dog best. The recipes that you make at home are affordable and help you save money. At the same time, you will know that the ingredients are of high quality.

Tips for Choosing the Best Treat Recipes for your Dog
If you are confused about offering the best homemade treat for your dog, then don't worry. Here are some guidelines and techniques for best pet animal treat for your dog.
Ingredients: Don't try to ignore the ingredient just because it is a treat for your pet. The recipe should be completely organic with all the natural constituents. You can make treats with whole grains like oats, brown rice, etc. it should have a single source of protein like beef or chicken. Make sure there is not enough fat and sugar because it will make your dog overweight. Try to include oxidant rich vegetables like beans, spinach, and kelp. Other ingredients to look for include Omega 3 and Vitamin A for healthy eyes and thick fur on the skin.


---

Calorie: When you are giving the easy homemade dog treats recipes, keep a check on the calorie count. You don't want to over-feed your pet and make him look overweight and obese. An unhealthy dog will attract several diseases and make you pay more bills at the veterinary clinic. The number of calories will depend on the age, weight, and activity of your pet. If you have a matured dog, he will require more calories as compared to a small puppy.


---

Texture: It might not seem very important at first glance but it has its own merits. It is worth mentioning because of its significance. A hard and firm homemade treat will be better for your pet's dental health as compared to soft ones. When your dog chews on something hard, plaque count is minimized in the teeth. It will give to healthy dental health in your pet. This technique is ideal for small puppies because they will get used to this thing from the beginning. However, don't give hard treats to your old and mature dogs because they have weak teeth.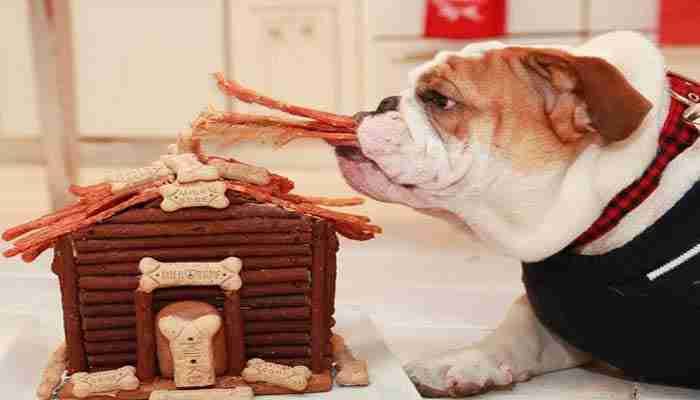 5 Homemade Treats for Your Canine Friend
Carob Crunchers: You will need 1 cup of wheat rice flour, ½ cup carob powder, 1 cup of water. Apart from that, you will need vanilla extract and cinnamon. Preheat the oven to 350 degrees Fahrenheit and put a silicone-baking mat. Take all the ingredients in a large bowl and make the dough. Add water if the dough is dry. Roll it over to make it a ¼ inch thick. Take a cookie cutter and cut in several shapes. Put it on a baking sheet and bake it for 15 minutes. Cool it and it is ready to serve.


---

Birthday Bonus: This recipe requires cups of wheat flour, 1 tbsp baking powder, 1 cup of unsalted peanut butter and 1-cup skim milk. Preheat the oven to 375 Degrees Fahrenheit and grease the cookie sheets. Make the flour mixture with the aforementioned ingredients and turn it into the dough. Knead it thoroughly until it becomes smooth. Roll it to one-quarter inch thickness. Take a cookie cutter and cut it into proper shapes. Place each cookie 2 inches apart in the preheated cookie sheet and bake for 20 minutes. Allow it to cool and your dog is ready to eat it.


---

Gourmet Dog Biscuits: Another very popular homemade recipe that is easy to make and your dog will love it. You will need 3 cups of wheat flour, 2 cups cracked wheat, 1-cup cornmeal, 1 tbsp garlic powder. In addition, you will need 1 tbsp brewers' yeast, half-cup milk powder and 3 cups of beef broth. Preheat the oven to 300 degrees Fahrenheit and grease a cookie sheet. Take a bowl and add the above-mentioned ingredients into it. You can use your hands or electronic mixture to make the dough. The sough should be stiff and roll it over to 1/4 inch thickness on floured board. Cut the biscuits in your favorite shape. Put them in the oven and bake the cookies for 45 minutes. Allow the biscuits to sit overnight for 10 hours and store them in an airtight container.
Benefits of Homemade Treats for Your Dog
When you are making the dog treat at home, you are doing your pet a lot of favor. You have the freedom to choose any natural ingredients that your pet likes. Like for instance if your dog likes blueberries, you can make him dog muffins with blueberry. If he likes tuna, then you can make many recipes on tuna treats.
With easy homemade dog treats recipes, you have full control over the ingredients because you know them to be healthy. You can make as many recipes you want for your pet. You can quadruple a recipe and make many treats so you may freeze them.
Alternatively, you can make a small batch and see if your dog likes it or not. Making treats at home is money saving because you can buy ingredients in bulk that can last long. Lastly, the homemade treats are very delicious and your dog will simply love them.
Last Updated on 18/11/2023 by Karen Snow

Hi! I'm Karen and a certified dog lover. As a freelance writer and blogger, I do my best to squeeze in some time with my dogs, learning more about the way they act and how I can make sure that they continue to stay well-cared for by yours truly.
My dogs have helped me through a lot, and this is my way of giving back to them! Besides animals, I also love to travel and cook, having explored my country's restaurants and unique places. Follow me as I show you all the amazing tips and bits of information I learn along the way about our furry friends!