Do you have a puppy? Chances are that you have one or more puppies. Of course, these adorable, cute, playful and loving new family members are always a joy to have.
When you have one or a couple, you must ensure that you always provide the very best when it comes to caring for them. This can be a little hard to achieve, but you have to do it anyway.
Of all the puppy needs, it is the food it eats that matter the most. How healthy the puppy grows depends on how well you feed him. Always availing Puppy Food for Sensitive Stomach is the only way to ensure that stomach upsets do not worry you much.
In this article, we will discuss some of such foods that you should provide in plenty to your puppy once she shows signs of stomach trouble. Read on and learn some of the ways to keep your puppy happy and playful.
Best Puppy Food for Sensitive Stomach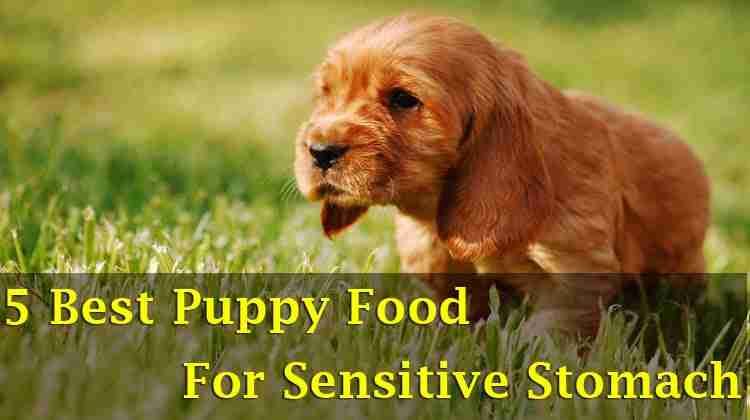 Before you decide on which foods to feed your puppy on, you have to recognize the signs of stomach upsets in him. Their undeveloped digestive system cannot deal with a lot of the foods that adult dogs can.
This stresses on the need for appropriate puppy food for the sensitive stomach. Look out for the following signs in your puppy and change their meals immediately.
Vomiting
Excess tool
Loose stool occurring over an extended period of time.
1. Purina Pro Plan Focus Sensitive Skin & Stomach
The Purina Pro Plan is a dog meal meant to nature both the sensitive skin and stomach of your puppy. This meal is formulated to be given to both adult dogs and puppies. The number 1 ingredient is salmon, which is rich in so many nutrients.
It provides most of the proteins. To make it easy on your puppy's digestive system, it incorporates an easily digested prebiotic fiber. Omega rich oils are also incorporated in this food.
2. AvoDerm Natural Dog Food
AvoDerm Natural dog food is very stomach-friendly to your puppies after weaning. It has a glowing effect on the puppy's skin, giving him that lustrous fur that we all love.
This meal is packed with quality proteins and avocados. This meal is also composed of vitamins, fatty acids, and antioxidants. After weaning, feed the meal to your puppies thrice a day and reduce to twice a day as they grow older.
3. Blue Buffalo Basics
The Blue Buffalo Basic is a dry puppy food to ease stomach upset worries that your puppy may have. This meal is made from several essential ingredients carefully blended together to provide a well-balanced puppy diet.
It is also helpful to puppies that may be sensitive to some foods. It contains real turkey as the main protein source. Carbohydrates such as peas and potatoes do not miss too. To make your dog ownership easier, this product is fit for dogs of all sizes, age, and breeds.
4. Wellness Simple
The Wellness simple natural dog food is formulated for dogs with food sensitivities, ingredient intolerances, and allergies. It is easy to digest since it contains very few ingredients. It contains high-quality salmon fish as a single protein source.
This easily mixes with other digestible carbohydrates, providing balanced nutrition. This meal is made from premium, all natural products. There are no funny additives or preservatives. It results in a well-nourished waxy puppy skin.
5. Fromm Puppy Gold Dry Dog Food
The Fromm puppy food provides you with a holistic approach to your puppy's nutritional needs. Besides being very friendly to your puppy's digestive system, this dog food is packed with abundant nutrients that pups may need.
It has a chicken meal, duck meal, oatmeal, fish meal and lots of other essential nutrients. The food formulation is made such that it is in line with AAFCO (Association of American Feed Control Officials) dog food profiles for lactation and gestation needs.
Conclusion
Puppy food for sensitive stomach is a great addition to your dog care responsibilities. Puppies may have different nutritional needs and may react differently to the type of food you feed them on.
Any type of food that may make the cute little friend of yours feel uncomfortable should be avoided at all costs. This article has briefed you on some of the foods that are easy on your puppy's stomach. You can decide on which of the five best suits you dogs.
Last Updated on 29/11/2023 by Karen Snow

Hi! I'm Karen and a certified dog lover. As a freelance writer and blogger, I do my best to squeeze in some time with my dogs, learning more about the way they act and how I can make sure that they continue to stay well-cared for by yours truly.
My dogs have helped me through a lot, and this is my way of giving back to them! Besides animals, I also love to travel and cook, having explored my country's restaurants and unique places. Follow me as I show you all the amazing tips and bits of information I learn along the way about our furry friends!