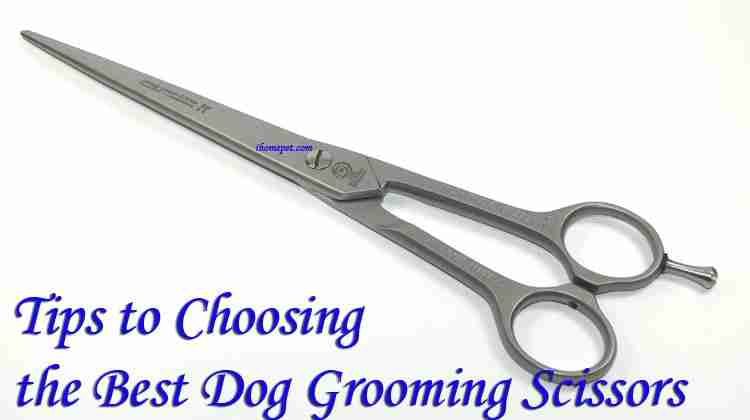 One of the most important tools in a dog groomer's arsenal is the grooming scissors. Finding the right scissors can make or break your work. Whether you are a professional groomer or you want to do it at home, there is a need to know that kind of scissors that ensures precision and safety when you get down to grooming your furry friend.
How to Choosing the Best Dog Grooming Scissors??
Finding and using the right part of grooming scissors will impact on your speed and the quality of the finished cut. With the right scissors, you no longer have to worry about back aches and strains that come with the strenuous task of shaving your dog.
You want a pair of scissors that feels right in your hands. If you pick a pair of scissors that doesn't feel right, you not only subject your arms and wrists to untold misery, but you are likely to feel the effects of carpal tunnel syndrome.
Whereas choosing the best dog grooming scissors is a matter of preference, make sure you evaluate your dog shaving techniques. There are different scissors that are suitable for different techniques; it's advisable that you know the best pair to pick for your style.
The materials used in making dog grooming scissors determine their performance and durability. Some are made of cobalt, steel or titanium. Such materials will enable you to cut with precision, comfort and confidence.
Since scissor selection will at one time bother you or the professional groomer you want to hire, always assess the health impact; how a given pair affects your speed and whether the scissors are within your budget.
Other than the materials and your tastes, you need to consider the following:
The type of scissor blade you'll need.
The ideal handle to have.
The kind of scissor blade length for best results.
The dog grooming process requires you to know the best kind of blades to choose from. You will come across different blade styles and you need to know whether they will help you cut to the desired length and outcome. The blade you pick will be determined by the procedure you want to carry out.
Bull Nose Blades
These scissor blades come with flat and rounded tips that keep your dog safe from cuts and nicks. You will cut the dog's hair without worrying over sudden risks or pain. There are wide scissor blades that are ideal for dogs with a heavy coat and coarse hair. Also, you can pick between short or long shank blades that are ideal for groomers with long fingers
Considerations When Selecting Grooming Scissors
Handle Shape.  When selecting dog grooming scissors, always check the handle shape. There are offset handles that offer a groomer the best regarding ergonomics. You are likely to hold the scissors naturally and your thumb takes a comfortable position.
This is one way of avoiding the carpel tunnel nerve issue. With the offset handle, you are able to move your elbow easily and your joint will move freely
Scissor Length
The length of your fingers, hand size, and the kind of grooming style you want will determine the length of the scissors you need. There are varying lengths and they work differently for groomers. The long blades that go up to 7 inches, they are ideal if you want to avoid the fatigue.
Materials
Dog grooming scissors can be made from carbon steel or stainless steel. This means most of them are hardwearing and they will maintain their edges well.
Although you can still pick the cobalt steel with its lightweight, you can still achieve a superior finish without nicking your dog with the other scissor types. For added durability, you can pick a pair that is cobalt coated.
Grooming Techniques
In the end, the decision to purchase a pair of dog grooming scissors depends on the work you intend to do and how it feels in your hand. You need to assess the grooming techniques and weigh them up against the possible health issues they are likely to trigger.
If the scissors are not ergonomically viable, you could end up with back pain, joint issues, carpal syndrome, and other posture-related issues.
If anything, you have the prerogative to choose between light or heavy scissors. As long as you have ultimate control when you groom your pet, there is no reason why you shouldn't end up with the desired result.
Last Updated on 30/06/2019 by Karen Snow

Hi! I'm Karen and a certified dog lover. As a freelance writer and blogger, I do my best to squeeze in some time with my dogs, learning more about the way they act and how I can make sure that they continue to stay well-cared for by yours truly.
My dogs have helped me through a lot, and this is my way of giving back to them! Besides animals, I also love to travel and cook, having explored my country's restaurants and unique places. Follow me as I show you all the amazing tips and bits of information I learn along the way about our furry friends!