There are certain things to consider before hiring a dog sitter or checking your dog into a dog day care. This article will look at all the crucial tips for choosing a dog sitters at their home/daycare facility for your puppy.
As a new pet parent, getting your first puppy is an exhilarating experience. You cannot wait to take your puppy dog home and show them to the world. Then you realize that puppies are a handful and very demanding. You will soon notice that having both house and pet will start affecting your savings.
Spending quality time with your puppy is necessary. It teaches the puppy how to bond and interact with its new world. As dog owners, you would do everything in your power to care for your pets and raise an overall happy and well-behaved puppy.
But What If Time Limits You As A Home And Pet Owner?
Juggling between work, family, and raising a dog can be challenging. On the occasions that you are not there for your puppy, you will need a helping hand to tend to and nurture your fur baby while away.
It brings us to the question, whether to choose a puppy day care or a professional dog sitting company. In a nutshell, both options are ideal if they can provide the kind of care a growing puppy needs.
So, how do you know you are hiring the right dog sitter or daycare staff? Understanding the growth and development of a puppy is the best place to start.
Dog Sitters At Their Home vs. Dog Sitting Company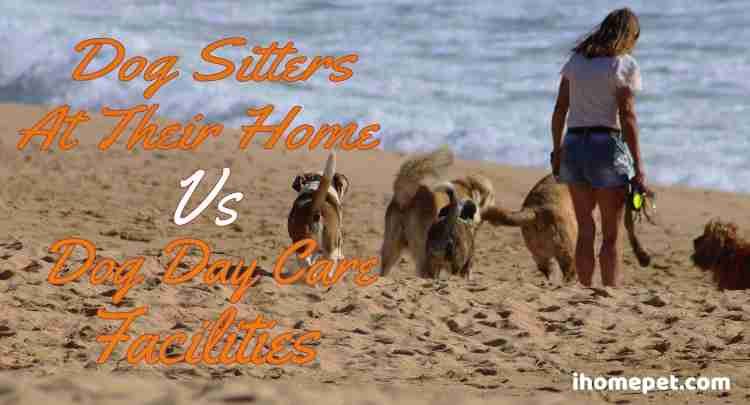 Determine how much you are paying a dog sitter vs. a dog day care in a day. Multiply this figure by the number of days you are gone to determine the most affordable option.
Before leaving your home, ensure you leave a piece of yourself behind. It could be sweat, a scar, or a handkerchief that your dog knows too well. Let this item be close to your puppy at all times. As long as they can smell your scent off the sweater, it eases their anxiety.
Ensure you stock up on supplies before leaving your puppy with a dog sitter. Also, create a timetable the home pet sitter can follow for feeding, grooming, and exercising your puppy. As long as the dog sitter fulfills your puppy's daily routine, then all is well.
Ask a trustworthy neighbor to keep an eye on your home. They will also be the contact person in case of emergency or when the dog sitter needs some help. A neighbor you trust will also keep the inhome pet sitter accountable while on the job.
Choosing House Sitters At The Early Stages Of A Puppy
Dog breeders will stress how important the early growth stages of a puppy are. Puppies learn their social skills directly from their mother. As they suckle and begin to teeth, they taught the importance of co-existing in a litter with other puppies.
Also, the experienced house sitters have ways to gently correct a misbehaving puppy, whether the puppy bites too hard on a nipple or is ruffling up its littermates. It is advisable to let a puppy stay with its mother until teething stops.
By this time, it can fend for itself and can take instructions. Yet, most puppies are adopted as early as seven weeks old, just when they are on their last stretch of weaning.
At seven weeks old, a puppy has suckled enough to gain ample antibodies for building its immune system. But the puppy has not socialized enough. It leaves the litter half-trained on how to co-exist with the world.
If you adopt a 7-week plus old puppy, the caregiver role falls on you, which goes without saying that the dog day care should offer a high-quality dog kennel.
What Are The Things To Look For In A Dog Boarding/Daycare Facility?
A suitable dog boarding care should provide an ample environment for:
Socialization
Emotional development
Opportunities to learn
Dog grooming services
That's the tip of the iceberg. There are more factors to consider before you settle for a dog care facility of choice.
Socialization
Dogs and cats need gradual socialization until they are old enough to navigate the world on their own. At the dog daycare, your puppy should socialize with puppies of their age. Grouping young puppies with older ones is a recipe for disaster.
Young puppies are naturally jumpy and will be all over the place. They will bother older dogs that are calmer and more collected. When the young puppy pesters an older dog, and the older dog feels cornered, a nasty altercation can erupt between the two dogs.
Emotional development
Emotional development in a young puppy comes through bonding. The puppy needs to spend time with a caregiver who also supervises the puppy's interaction with other dogs. Also, puppy bonding happens during playtime and grooming sessions. Find a dog daycare that can facilitate this.
Opportunities to learn
Puppies learn through consistent training. You want your dog to be in an environment that challenges its physical and mental capacities. A dog boarding facility that provides dog training as part of its services is a gold mine. Basic training such as sit, heel, come, stop, or stay, can be taught at the daycare. A dog trainer would be a big plus when choosing a facility.
Dog grooming services
As a pet owner, we sometimes lack time to groom our dogs. Choosing a facility that offers dog grooming services can help you solve this particular issue. That way, you will have more time for feedings and walks with your pooch. Typically a person who house sits would not offer this option.
Other Factors For Choosing Who Is Going To Be Taking Care Of Your Puppy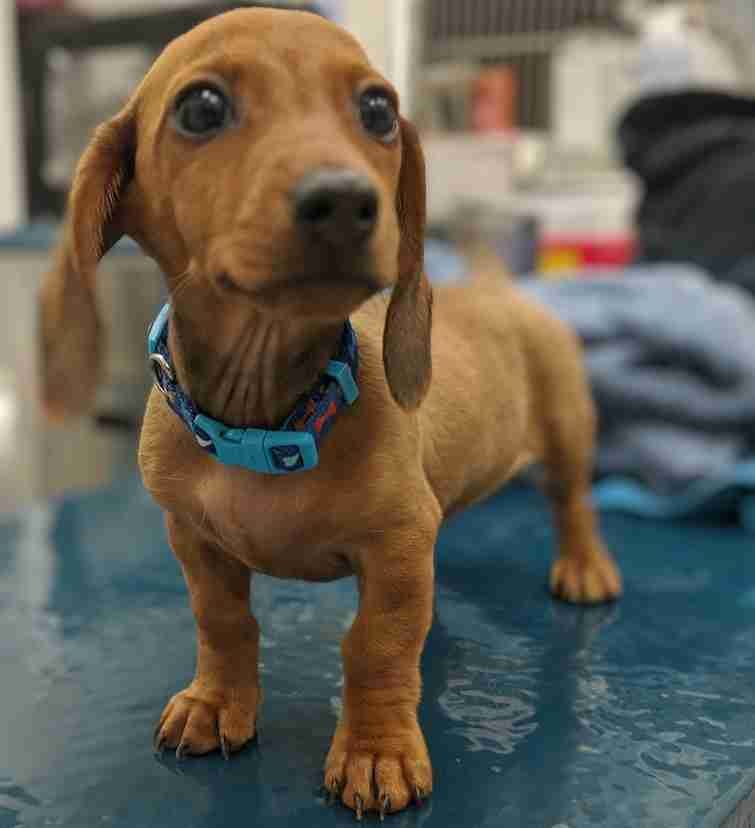 Find out if the daycare is licensed and registered to operate in your state. Also, inquire if the daycare is part of an institution that regulates how they conduct business. An organization like the International Boarding & Pet Care Services Association monitors kennel operators to ensure their facilities are safe and provide quality care for puppies. Also, such organizations periodically evaluate the professionalism of the daycare staff. You have the peace of mind that your puppy is in the hands of professionals.
Do your research first before choosing puppy daycare services. Ask your friends, family, or friends to refer you to suitable daycare in your locality. Alternatively, go online and search for classified advertising daycare services for baby dogs. Narrow down to a few dog care facilities that you can physically visit.
At the premise, check if the facilities are clean and hygienic. Is there sufficient lighting and fresh air in the kennels? Check if the puppies are thriving in an environment with ample temperature. Do not forget to interview the staff and find out what they know about running a daycare. Also, are the staff friendly and professional in how they handle clients and the puppies?
Finding the best dog day care boarding is not a decision you want to rush on. Remember, you want to travel with the assurance that your puppy is in good hands. Take your time until you find the dog boarding facility that suits your puppy's needs. Also, have the garden looked at by someone you trust.
Pros and Cons of Dog Day Care vs. Pet Sitting Services
Not every pet parent can afford the charges of a dog boarding facility. If budget is a concern, another option would be to hire a pet sitter for your young dog. Pet sitting, too, has its advantages.
One benefit is that your puppy does not have to leave his home. Even in the most comfortable daycare, a puppy can still feel weary for being in a strange environment. Some puppies fail to adjust and usually isolate themselves while at the daycare (sounds familiar?).
Pet sitting at home allows your baby dog to thrive in a familiar environment. The puppy will not feel neglected or bullied by other pets. The only trick is in choosing a dog sitter that knows how to care for young puppies.
How Do You Find The Right Dog Walkers For Your Pooch?
First, determine what kind of care your puppy needs. Is the Pitbull puppy old enough to navigate its world while supervised by a dog sitter? Or is it a young puppy that needs more attention as it adjusts into its new home? Once you know what your puppy wants, find a dog walker who can cater to those specific needs.
Meet the dog sitter for an interview. You want to gauge their personality and determine if they are the right people for the job. Let your puppy tag along to the meet and greet if possible. If the two hit it off right away, you find yourself a good dog sitter.
Alternatively, friends or family could point you to a suitable home dog sitter. You could also get contacts from online advertising directories. If a professional dog sitter has an online profile, read their reviews from other customers. If all you see are positive reviews, then schedule an interview with that bedsitter.
The rise of dog walking apps has made it easier for pet parents to find the best care for their Golden Retrievers puppies. These apps feature profiles for various dog sitters in your state. You can filter your search to geographical location and dog sitter ratings.
A highly rated dog sitter with excellent reviews is a good catch. Also, a dog sitter who is certified to handle and care for animals is well-suited to cater to the welfare of your puppy.
Conclusion
As animal lovers, it is important that we evaluate all of the aspects of pet sitting. A good way to start is by searching online for dog sitters near your location. Once you have done your research, you should choose between an inhome dog sitter or a facility that allows overnight stays.
Choosing a dog care facility or a pet sitter depends on the need of you and your newly adopted puppy. Consider your budget and how long you will be away. Ensure your puppy's daily routine- feeding, grooming, exercising, potty breaks- is met whether at the daycare or home with a dog sitter.

Hi! I'm Karen and a certified dog lover. As a freelance writer and blogger, I do my best to squeeze in some time with my dogs, learning more about the way they act and how I can make sure that they continue to stay well-cared for by yours truly.
My dogs have helped me through a lot, and this is my way of giving back to them! Besides animals, I also love to travel and cook, having explored my country's restaurants and unique places. Follow me as I show you all the amazing tips and bits of information I learn along the way about our furry friends!