We all know the upsides of having a pet. Companionship, unconditional love, a best friend to play with, and share in the journey of life. But while all of us are tempted to adopt an adorable puppy or kitten, there are real responsibilities that come with caring for a four-legged friend. Keep reading to learn the 10 most important tips for being a responsible pet owner!
10 Best Tips of Being a Responsible Pet Owner At All Times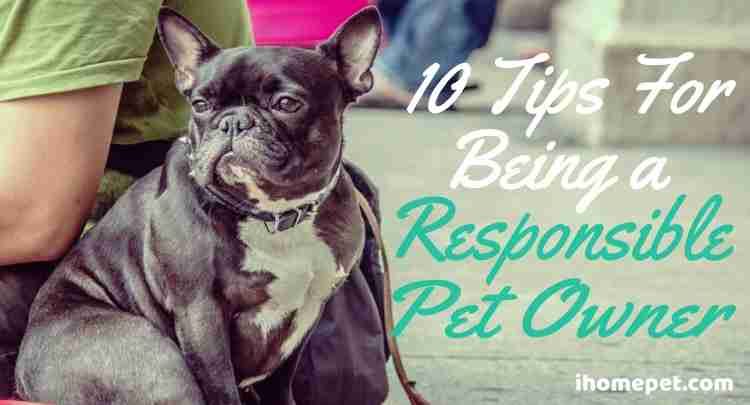 Part of being a pet owner requires you to maintain the pooch's immune systems in good shape at all times. Your pets health should be the number one item on your list. Many dog owners try to avoid this topic and simply do not pay attention to it.
1. Give them a Supportive Home
Different pets have different needs. So before you go out and acquire the first puppy that steals your heart, make sure you know how to properly support your pet. A clean environment will prevent fleas and ticks and maintain the pet behavior of your dogs and cats.
Many of us work typical business hours: 9am – 5pm Monday to Friday. And that's perfectly conducive to owning a pet. In fact, knowing your work hours and having a set routine can allow you to plan for your pet's needs more easily. But being away from the house for long hours each day is a huge lifestyle factor that you need to consider.
If you live alone and spend much of the day outside of the house, then a high-energy dog is probably not the best choice for you. Instead, seek out a lower energy dog or cat breed that knows how to spend time alone.
You wouldn't go out and get a horse without owning a stable. And the same goes for selecting a dog or cat. Don't bring home a pet if you can't give them the kind of support they need. Instead, choose a pet that fits well with your lifestyle. That way, you'll both be happy 🙂
2. Pet Proof Your House
You'll notice a consistent theme in this article – and that theme is this: every pet is different. This is especially true when pet-proofing your house to protect your best friend from harm.
Start by making sure you're aware of any foods or materials in your house that are harmful to pets when ingested. These can include chocolate, garlic, and anything containing xylitol. Keep these out of your pooch's reach and consider using childproof latches to secure these foods. You'll also want to store any medications or cleaning supplies in these secure locations.
Next, make sure your trash cans are covered and conceal any cords that could be easily chewed up. If you have a puppy or kitten, these two aspects are especially important – as young pets love to explore and chew things they're not supposed to 🙂
After that, check your home for any small spaces that a curious pup could get stuck in. You'd be surprised at how super easy it is for a dog or cat to find themselves trapped after exploring a little too far into a gap or crevice.
And finally, open a new tab and google "how to pet-proof your home." You'll find even more information scattered throughout lengthy articles on this topic.
3. Provide Regular Care
This should go without saying, but regular visits to the Veterinarian and Groomer are a necessary part of responsible pet ownership. It's not enough to simply visit the Veterinarian when you notice a severe problem. Instead, make proactive care a priority and try to address any potential medical issues before they reach an advanced stage.
It's also important to know exactly what to do in case of an emergency. Make sure you have your Veterinarian's number and address within reach. That way, you'll know now exactly who to call should an emergency come up. A responsible pet owner means that you are going to give your best at making sure your pets health life is in good standing.
4. Provide Optimal Nutrition

Let's face it – the world of pet food is confusing. There are countless brands and products, all claiming to be the BEST food for your dog. But don't worry, we'll make it easy.
While cats and dogs have slightly different nutritional needs, there's one thing they both have in common: cats and dogs both have NO nutritional need for carbohydrates. Which means, if you want to give your pet the lifelong benefits of optimal nutrition – you need to cut the carbs.
If you have a kittie cat, there are plenty of food options packed full of meat that supplies all of their nutritional needs. Consult with your Veterinarian and find a high-meat food that works for you. And if you have a dog, there's one clear choice for what to feed them.
Unlike the world of cat food, the dog food landscape is plagued by foods that are unnecessarily high in carbohydrates. And that makes sense – because carbs are cheap to use and easy to manufacture with. But a high-carb diet is ultimately damaging to your dog.
To give your dog the benefits of optimal nutrition, skip the carbs, and go for a low carb, high meat diet. You can make a diet plan at home using store-bought ingredients, or use a very low carb pre-packaged food like VisionaryPet.
5. Give your Pet Basic Training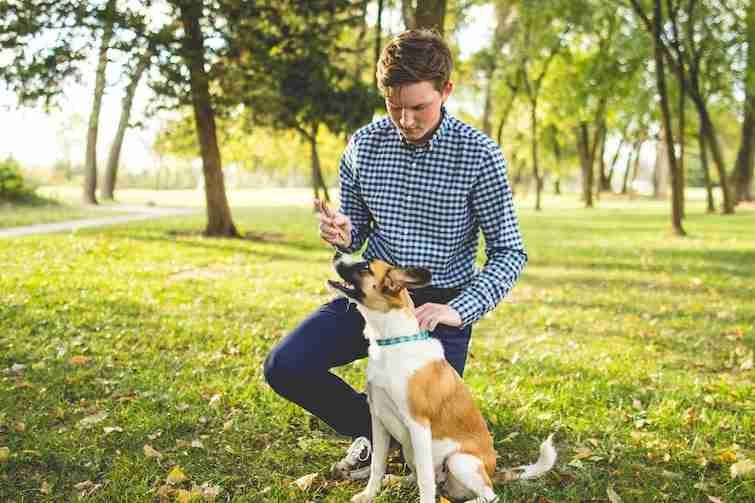 It might seem like an "added bonus" to give your dog proper training. But here's the truth: training is not only important, but it could also easily save your dog's life. Train your pet or furry friend to potty outside with love and care.
It's your responsibility to teach your basic dog commands like sit, stay, and come. These commands will allow you to keep your dog safe in unfamiliar environments, and may one day save your dog's life. You can find different training classes online if you do not know where to start.
The old saying, "you can't teach an old dog new tricks," isn't quite the truth…it does convey an important message. It's best to teach your pup young. Enroll your puppy in a basic training course and make sure you teach them basic commands.
6. Give them Optimal Exercise
If you have a young dog that's acting out, odds are they're not getting enough exercise. Dogs have tremendous energy and endurance, so if you want to responsibly care for your dog, you need to give them the right amount of exercise.
And exercise isn't just to keep your dog from tearing up the house. Exercise is a crucial thing you can do for your dog's health! No matter what breed of dog you have, remember this – walks aren't enough. Make sure you're challenging your dog with intense exercise at least 1-2 days per week – in addition to daily walks.
7. Socialize your Pet
Just like you, your pet is a social animal. And that means – in order to give your pet a happy and fulfilling life – you need to socialize them. One solution is to simply have more pets. But this approach comes with its own unique and sometimes overwhelming challenges. So…here are some easier solutions 🙂
Find some playmates for your pet. The simplest or easiest way is to set up some play-dates with friends that also have friendly pets. That way, you can provide your pet the gift of lifelong friendships – and improve your own relationships too!
Hit the dog park. There's no better way to introduce your dog to fellow canines than to hit the dog park! But before you do, make sure your dog is comfortable playing in a pack. Things can get rowdy, and you want to make sure they're comfortable in that environment.
Take daily walks. Walks aren't just for exercise alone. Walking your dog is an outstanding way to let them meet some pup-pals in your neighborhood. Bonus tip: try to take a different route often, so you run into new friends each week 🙂
8. Provide Preventative Care
This one is short – because it's simple. Make sure your pet is up-to-date on all recommended procedures and vaccinations. Consult with your Veterinarian on what's appropriate for their pet based on their age and breed. This is critical to preventing some serious health emergencies.
Bringing your pet to featured events in your local community can also help. As long as you are providing regular exercise, food and shelter, your pooch would be safe and sound. Most of the time, you can even feed your dogs and cats with household products like carrots and rice.
9. ID Your Pet
Consider some form of identification for your pet in case of an emergency. While you may not see it coming, many pets wander off or get lost at some point in their life. And in these instances, having them properly identified could easily save their life.
Some pet parents prefer to implant a subcutaneous microchip. Others opt for a simple ID tag attached to a collar. Whichever you choose, make sure there's a way for a stranger to identify your pet and return them to your loving home.
10. Provide a Loving Home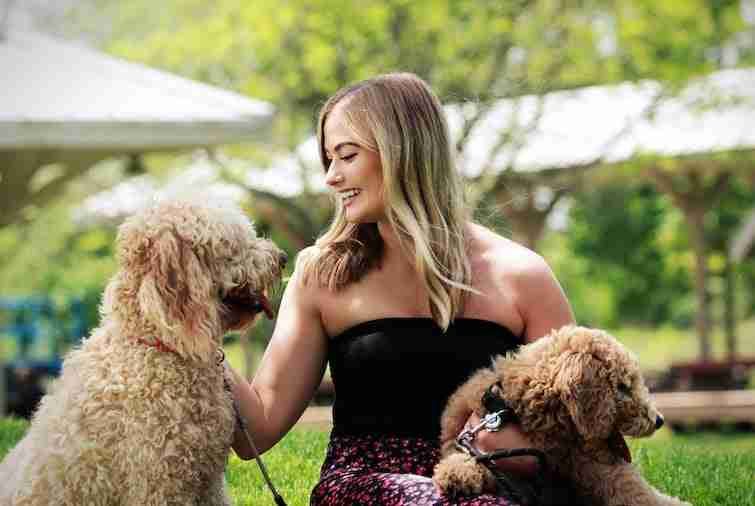 Our final tip for being a responsible pet parent should be the easiest to follow! Give your pet a loving home. Your pet wants nothing more than pure love and attention, so make sure you provide care and support on a daily basis. It shouldn't be hard, but it's the most important thing you can do to give your pet an amazing life.
Give your pet enough love and attention as they deserve it. Make a point to spend time with them daily. And bring them along on life's adventures. There's nothing more rewarding than being a pet parent. You just need to make sure you care for your pet responsibly 🙂
Wrapping It Up
According to the American Kennel Club, every dog owner should commit to their ownership and continuously ask questions to your pet care center to make sure your pet's health is always in good shape. That is the best way of protecting your pet.
Both dogs and cats deserve the best treatment. We have a few posts about cat toys that you should take a pick. Hopefully, you have learned how to advocate for your pet with the previous pet care tips. Practice responsible measures to maintain a pet healthy living environment.

Hi! I'm Karen and a certified dog lover. As a freelance writer and blogger, I do my best to squeeze in some time with my dogs, learning more about the way they act and how I can make sure that they continue to stay well-cared for by yours truly.
My dogs have helped me through a lot, and this is my way of giving back to them! Besides animals, I also love to travel and cook, having explored my country's restaurants and unique places. Follow me as I show you all the amazing tips and bits of information I learn along the way about our furry friends!