Excessive hives, scratching, rashes, hair loss, and infections present with confirmed signs that your dog is suffering from skin allergies with food sensitivities. Also, your pet may have some gastrointestinal issues, including diarrhea and vomiting.
However, specialized prescription, dog food for skin allergies, and hypoallergenic homemade dog food ingredients are readily available in the market. Experts recommend developing your own homemade dog food for these types of allergies.
With this, you can have more control over ingredients to feed your dog. In this article, we will share homemade dog food recipes with some beneficial information on dog skin allergies treatment.
Hypoallergenic food
According to the elaboration of Merriam Webster, hypoallergenic is defined as "having the likelihood of causing an allergic response." Indeed, there may be no warranties and guarantees that specific food elements will not be going to cause an allergic reaction.
However, just like every single other thing in life, some of the recognized foods that have a high response causing risk while others are absolutely safe.
When designing a hypoallergenic homemade dog food menu, you have to select an appropriate amount of carbs, protein, and fats that possess a little risk to stimulate avoiding known allergen offenders.
Finding the right cause
Firstly, as a pet owner, you have ruled out all possible allergens and triggers, including dust, flea bites, grass, mold, and pollen. When a healthy dog is allergic to a particular type of food, that is why their intestine may get inflamed.
They may lead to fungal or bacterial overgrowth that may affect other body parts, especially ears and rears. However, food allergies are not very common in dogs. Your dog may be reacting to food skin stimulators.
It is recommended to diagnose skin allergies triggered by certain foods with a veterinarian supervised elimination diet for dogs. Ideally, a closely monitored essential diet with dog food for skin allergies is the list of ingredients over a span of 3 months for dog skin allergies home remedies.
Common allergens
Although, the most obvious way for dog skin allergies treatment is to avoid triggers as much as possible. You can determine this by limiting ingredients in your pet's diet to observe reactions.
According to a study published in BMC Veterinary Research, dogs are more likely to have an allergy to dairy products, organ meats, and wheat. Try to pick a protein source such as rabbit, venison, lamb, and salmon that your dog has never consumed before.
Combine them with nutrient-dense food like green leafy veggies (kale, spinach, chard, broccoli) and healthful carbs (oats, brown rice, rye, barley, sweet potatoes). It takes up almost 60-90 days to clear up your pet's skin issues.
However, once your dog's signs begin to improve, you can gradually add more ingredients to monitor symptoms to pop up. Avoid feeding your pet with any table scraps and unusual treats to ensure that you prevent them from every possible cause.
Create a homemade dog food menu to heal gradually
It is recommended to feed your pet with homemade dog food recipes vet approved. Experts recommend that an ideal dog's diet should consist of at least 50% of animal protein. Thus, try to make animal protein a centerpiece of an entire meal plan.
Vegetables, fruits, starches (potato and cook rice) have to make up a whole quarter of their diet as well. To top them off all, adding healthy oils and fats to your dog's meal is ideal. Also, adding oils with essential fatty acids helps to add extra nutrition, improves skin conditions, fight inflammation, and enhance immunity that is much needed for itchy skin.
Keep in mind that adapting to a new diet takes time, and so do healing processes. However, if your kid loved dog is severely ill, it may take a few weeks to detox him/her to see the results.
Gradually introduce new ingredients in homemade dog food so that transitioning takes up in a gentle way to your dog's body. With the help of the right diet and dog food for skin allergies, you can get your dog back to a healthy life with dog skin allergies home remedies.
What to avoid
Specific foods are known to have a high risk of causing the allergy. They may include corn, wheat gluten, soy, and even some kind of ground meat. Unfortunately, many of these have been included in dog food.
Also, spoiled foods, molds, toxins, and chemicals can cause sick signs. Dog foods are not meant to be the same standard as human dry food. Thus, pet owners may be concerned regarding their high LB dogs ingesting these items in commercial foods.
Eliminating these from your pet's diet is the first step towards helping them by adding the right dog food for skin allergies. Try to avoid making pet surrounding calming and remove every stimulating object and behaviors that may annoy dog including, forced socialization, too much noise, drive scorpion jacket, staring, interrupted sleep, tight leash, and sharp metal objects.
What to replace
Eliminating the above allergens from your dog's diet can help them being cleaned up. Also, they enable you to watch for improvements. The best way to take away the bad is to replace it with the good.
Adding a small amount of an expected allergen can help you identify and monitor those allergic reactions. Try including ingredients for homemade dog food diet like fish, chicken, turkey, fruits, vegetables, and oils. Also, fresh quality foods are the best to keep them safe.
10 Homemade dog food recipes to avoid skin allergies
Homemade recipes are best among dog skin allergies home remedies. Below are 10 easy to make recipes suggested by Martha Khewn, a veterinary nutritionist and helping people to buy dissertation online services that ease you to make your own dog food.
1) Veg turkey meat
Ingredients
2 pounds ground turkey

1 large sweet potato (chopped)

2 tbsp. coconut oil

1/2 cup frozen peas

1 medium carrot (chopped)

2 cups of water
Directions
Pour coconut oil in a medium-sized saucepan and sauté grounded turkey.

Chop carrot and sweet potato into small pieces.

Cook the meat thoroughly and add chopped carrot and sweet potatoes to it.

Add water to the pot.

Bring the entire mixture to boil over medium heat.

After a while, reduce the heat to low and cover the pot to simmer for 20 minutes.

Stir in frozen peas, and let the food completely cool before serving it to your allergic dog.
Recommendation
The recommended serving size is about ½ cup for every 20-25 pounds of body weight for 2 servings per day. Your pet nutritionist will help you to adjust the serving size for your pet in a recommended portion. However, active dogs will require more calories as compared to lazy puppies. Also, variables like age, weight, activity, and health issues will also affect the amount of food he/she will require per day. You can store recipe leftovers in an airtight container for up to 5 days. Also, you can make it in bulk quantities and store it for 2-3 months in the freezer.
2) Veg turkey liver
Ingredients
2 tbsp. turkey liver

2 lbs. lean ground turkey

1 cup cauliflower florets

2 medium carrots (chopped)

1/2 cup zucchini (chopped)

1 cup broccoli florets

2 tbsp. olive oil
Directions
To make your own dog food, steam broccoli, carrots, zucchini, and cauliflower for 10 minutes, ground turkey liver in a food processor.

Cook grounded turkey and turkey liver in a skillet over medium heat and cooked until brown.

After 5 minutes, drain fat from meat and liver.

Combine steamed vegetables with cooked meat in a medium-sized bowl.

Toss them with olive oil and serve them once cooled to room temperature.
Recommendation
If your dog has a dental problem or has a tiny breed, you can mash it to make it easy to eat. Also, leftovers can be stored in an airtight container for 5 days or in the freezer for 2 months. The recommended serving size is about ½ cup for every 20-25 pounds of body weight for 2 servings per day. Your pet nutritionist will help you to adjust the serving size for your pet in a recommended portion.
3) Venison Veg
Ingredients
1 pound venison (cubed)

2 cups sweet potato (cubed)

1 tbsp. dried rosemary

1/2 cup canned pumpkin

8 ounces frozen broccoli, carrot and cauliflower mix

6 cups of water
Directions
The above recipe is a slow cooker recipe, and that is great for those pet owners who are busy or those who don't have much time to prepare meals for their pets.

You just have to pop in all the ingredients into the cooker and set it for a slow heat for hours.

Come back when the dish is ready.

To make this, add water, venison, rosemary, and sweet potato into the pot.

Cook it for 4 hours.

Then add frozen veggies mix to the cooker and stir until they mix thoroughly.

Once the food is cooked, add pumpkin and stir well.

Serve warm.
Recommendation
The recommended serving is one cup for a 30-pound dog 2-3 times a day. As mentioned above, serving size can be adjusted as per age, weight, activity level, and health conditions of the pet. This can be stored for long up to 2 weeks in the fridge and for 4 weeks in the freezer.
4) Wholesome chicken mix
Ingredients
1 pound organic, free-range chicken breast (boneless and skinless)

2 medium organic zucchinis (chopped)

1.5 cups organic green beans (chopped)

3 cups organic kale (chopped)

1 cup organic quinoa
Directions
To make your own dog food, slice chicken breast into thin strips and put them into a deep frying pan.

Shallow fry and brown them.

Now cook quinoa as per the instructions on the package.

Quinoa is

perfect for skin allergies

and rich in phosphorus, magnesium, and other vital nutrients essential for growth.

It is gluten-free, as well.

Once the chicken and quinoa is cooked, add vegetables to chicken.

Cover the pot until veggies are cooked well.
Recommendation
The above homemade dog food recipe is suitable for highly sensitive and allergic dogs with limited ingredients. Also, you can make substitutions to the recipe for vegetables or even a different source of protein. The recommended serving size is around 1 cup for every 30 pounds of body weight, 3 servings per day.
5) Vegetable Dish with Millet and Rice
Ingredients
1 cup of cooked millet

3 cups of mixed vegetables

1 cup of cooked brown rice

1/2 cup water

3 tbsp. of organic oil
Directions
The dish doesn't require a lot of preparation time.

Cook millet and brown rice thoroughly in a pot.

Add oil and water and mix them well for 5 minutes.

Put vegetables in a blender and blend them on medium speed until they form a creamy paste.

Add this great mixture to the pot and stir well with millet and rice. Cook it for 5 more minutes. Serve warm.
Recommendation
The recipe is the best dog food for dogs with allergies. Brown rice is suitable for a dog's digestion because it is full of fibers and rich in vitamins. The recipe can be stored for 2 days in the fridge. Recommended serving for most dog breeds is 1 cup for 20-25 pound puppy 2-3 times per day.
6) Vegetable Stew
Ingredients
3 tbsp. of olive oil

3 cups of water

1 medium yellow squash

3 garlic cloves

1 medium eggplant

1 large sweet pepper

Add 1 large potato

1 medium zucchini

Salt and pepper

1 tbsp. of basil
Directions
Heat oil in the pot.

Crush a few mini garlic cloves and add them to the pot.

Sauté garlic until it turns golden brown and softens.

Cut all vegetables and add them to the pot.

Mix all vegetables until the mixture is homogenized.

Add water accordingly.

Wait for the stew to boil and let it simmer for 40minutes.

Add pepper, and basil,

keep the salt low

.

Serve warm.
Recommendation
Surprisingly, dogs can also enjoy tasty and yummy vegetable stew, especially for pregnant dogs. The recipe can be altered with your dog's favorite vegetables, as well. You can also include protein supplements or beans to increase the amount of nutrition in your dog's meal. You can save this stew for 3-4 days. Freezing is not recommended. Serving size is a bowl full for every 15-20 pounds 3 times a day.
7) Vegan Tofu Loaf
Ingredients
2 cups of quick oats

2 slices of whole wheat bread

10 oz. firm tofu

2 tbsp. Dijon mustard

3 tbsp. soy sauce

2 tbsp. nutritional yeast

2 cups of water
Directions
Preheat your own to 350 degrees.

Crumble bread slices.

Rinse tofu well then cut them into cubes.

Use a paper towel to get excess moisture out.

Put all the ingredients in a large bowl then mix them.

Add black pepper and garlic powder to spice it up slightly.

Mix all ingredients to get loaf consistency.

Kneed loaf then places it on an oiled cake or loaf pan.

Bake the loaf for 40 minutes.

Let it cool down and cut into pieces.

Serve it green veggies (broccoli, cabbage, lettuce, asparagus, and kale).
Recommendation
The loaf is meatless and may not be an expected thing on your dog's mind. However, your pet is undoubtedly going to love it. You can serve 8-10 oz. of meal 2 times a day. The loaf can be stored for 3-4 weeks in the fridge. This recipe is rich in vitamins and minerals.
8) Vegan Quinoa Skillet
Ingredients
1 can of cooked kidney beans

2 cups of cooked quinoa

1/2 cup of frozen corn

1 cup of spinach

1 carrot

2 tbsp. of ground flaxseeds

1 tbsp. of nutritional yeast

2 table spoon of soy sauce
Directions
To make your own dog food, cook kidney beans and quinoa.

Grate carrot and chop spinach thoroughly.

Put the carrot in a large skillet and add some water to cook it for 2 minutes.

Add soy sauce, spinach, and cook for another 2 minutes.

After that, add corn, quinoa, kidney beans, and yeast and mix it all together.

Top up with flaxseeds and serve it at room temperature.
Recommendation
The dish is an ideal homemade dog food that is nutritionally rich and recommended to include 3-4 meals per week. Serving size is recommended as 8-10 oz. of meal 2 times a day. Try with a variable combination of veggies and beans that suits your dog well. The damn delicious recipe is a complete meal for a balanced diet.
9) Rice and Quinoa Dish
Ingredients
4 cups of brown rice

½ cup of red quinoa

1 teaspoon salt

1/2 cup ground flax seed

16 oz. package of frozen mixed vegetables

15 oz. can of black beans

1 cup of nutritional yeast

15 oz. can of garbanzo beans

1 cup of olive oil

20 oz. package of crumbled firm tofu

6 cups of water
Directions
Put water into a pot and let it boil for 5 minutes.

Add rice and quinoa then cover the pot.

Put them on a low heat and let it cook for 15-20 minutes.

Add all remaining ingredients and mix well.

Serve at room temperature to your dog.
Recommendations
The recipe is the best dog food for dogs with allergies. Brown rice and quinoa are an excellent source of fibers for those having digestive issues. Also, flaxseed will provide essential fatty acids (omega-3 & omega-6) to boost immunity and promote better healing for skin allergy. The serving size is 8-10 oz. 3 times per day. It can be stored in a single airtight box for 2 weeks. You can use white rice as well.
10) Veggie Biscuits
Ingredients
3 cups of whole wheat flour

2 tbsp. of olive oil

3 cups of parsley

2 tbsp. of bran

1/2 cup of carrots

2 table spoons of baking powder

1 cup of water
Direction
Chop carrots and mix them with parsley in a bowl.

Add olive oil to the mixture and toss well.

Take another bowl and mix bran, wheat flour, and baking powder.

Add mixture to veggies and add water to make a smooth consistency batter.

Mix the dough till moist.

Knead the dough and roll it out.

Make desirable shapes by a cookie cutter and put cookies on the baking sheet.

Bake cookies in preheated own at 350 degrees for 20-25 minutes.

Let them cool down firmly then serve to your pet.
Recommendation
These homemade dog biscuits are a genuinely healthy treat with a taste delicious. 2-4 medium-sized are ideal for a single serving depending upon the age, lose weight, and activity level. The above homemade dog biscuits can be stored for a month in an airtight jar.
Feeding guidelines
Dogs are omnivores; they need a full balanced diet of carbs, fats, and proteins, and fibers. Therefore, there may be several opinions regarding pet diet modification. Don't try to force dogs and cats to eat something they dislike. When a pet refuses to eat a particular food ingredient like chicken liver, this is a clear sign that it can cause them discomfort.
If you think that your dog might be allergic to grains, you need to feed them with moderate fat, high protein with a fruit-veg combo. If you want to introduce a raw diet to maximize the nutritional input of your dog, you have to source your ingredients from reliable sources. This will help you to prevent possible reasons for contamination.
Remember, just like humans, every dog's metabolic rate is different depending upon the activity level. However, an ideal feeding amount should be around 2.5-3% of your pet's body weight. Also, it is better to serve the food at room temperature.
Lastly, before starting on a dog food regime, consult your trusted pet nutritionist or veterinarian for specific needs and guidance on dog food for skin allergies. It is recommended to feed your pet with homemade dog food recipes vet approved. Check with your vet if our easy crockpot recipes are safe for your pooch.
Additional supplements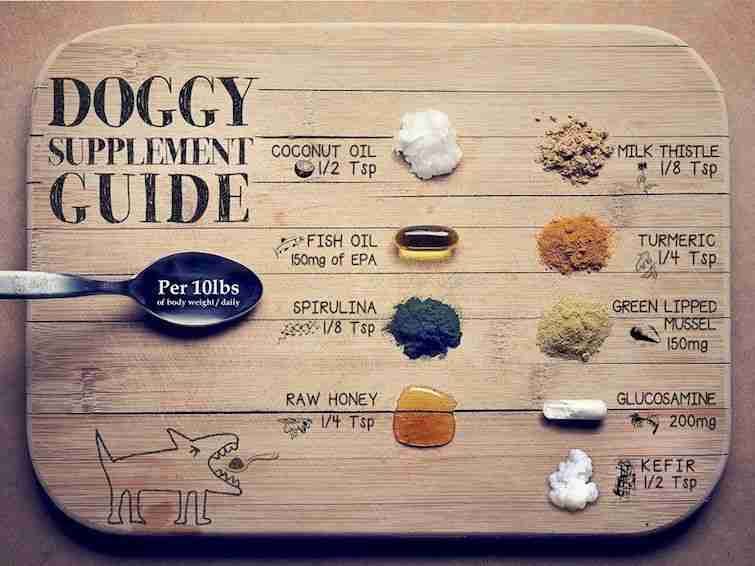 Nutritional supplements for dog skin allergies have to include essential fatty acids. They are richly found in evening primrose oil, fish oils, coconut oil, and flaxseed oil. They are advantageous soothing itchy skin.
Essential fatty acids supplements containing omega-6 and omega-3 fatty acids are widely proven for smooth skin texture, shiny coat hair, and better immunity. Thus, besides with macronutrient combination, micronutrients are essential to keep their body functions smooth and healthy.
Plain yogurts can serve as a good source of calcium and probiotics and beneficial for digestion. Make sure the food supplement has no added sugar and artificial flavors, sweeteners, and preservatives.
For dogs that are lactose intolerant and developing symptoms like gas, vomiting, and diarrhea, stop them from feeding with dairy products to prevent further complications.
German shepherds love's to eat over 50 percent meat content. However, you should be careful when feeding dog cooked food to your loved one, wait a few minutes before you serve it, especially if it is wet food.
Butternut squash is a safe ingredient to add if you're looking to keep a grain free diet. Also, a bone broth is a great way to add that meat flavor to your dog's individual serving. Also, your overall dogs health and digestion system are essential. Most of these recipes can help if your pooch has an upset stomach. Always feed your pet according to your vets recommendation.
Other things to consider
Stew for dogs is a great way to replace commercial dog food with human food. Some scientists have proved that dogs that eat non-commercial dog food tend to live longer lifes. Kidney failure symptoms and other diseases were found on dogs that did not eat homemade foods. Also, avoid feeding your pooch raw food.
Other vets recommendation include switching to canned food, and which can be positive when it comes to food storage shelf life, and reducing store bought items. So what can I feed my dog? Dog loving breeds like the Border Collies love to eat homemade recipes that include ground beef stew of raw meats, bone meal, or peanut butter as a source of protein.
The portion size of a basic recipe should not exceed a cup of food per serving. A balanced protein diet can be a cup of mixed cottage cheese, chicken and rice in some cases. Also, a good dogs nutritional plan combined with a dog walking routine can be extremely beneficial for your pooch. Sometimes eggs shells can produce allergies in dogs like the Golden Retriever.
Bottom line
In a nutshell, skin allergies can be caused by a variety of reasons. The most common factor that may contribute more to skin allergies is poor diet. Fortunately, the problem can be cured by switching your dog to better options for hypoallergenic homemade dog food.
It is recommended to feed your pet with homemade dogs recipes vet approved. Additionally, it is essential to seek professional advice from a trusted veterinarian if your dog doesn't heal. You may not be able to stop allergy until you reach the source of the problem.
If your dog has a skin condition like an infestation of fleas or even he/she is allergic to something else in the environment, switching foods will not be going to treat them.
However, if your veterinarian agrees that skin allergy is caused by food allergens, an allergy test can be referred to diagnose an actual cause. When you succeeded in finding what is causing allergy to your pet, create a meal plan with top dog food for skin allergies to exclude that ingredient.
Always great for these recipes to be consulted with your veterinarian. Try to accustomed your dog to eat homemade meals at a young age, then most likely to watch your pet live a longer life. For more home cooking, dog food tips follow our blog.
Tip: Find homemade diets and recipes for a dog treat and overall pet food.
Collaboration Author Bio:
Reanne Carell is an avid writer, and her work has been featured on many websites. She is pursuing her master's degree in veterinary nutrition. Reanne owns a site named Word Count Jet. Also, she is currently working as an Editor at Crowd Writer, UK's exclusive buy essay services.
Hi! I'm Karen and a certified dog lover. As a freelance writer and blogger, I do my best to squeeze in some time with my dogs, learning more about the way they act and how I can make sure that they continue to stay well-cared for by yours truly.
My dogs have helped me through a lot, and this is my way of giving back to them! Besides animals, I also love to travel and cook, having explored my country's restaurants and unique places. Follow me as I show you all the amazing tips and bits of information I learn along the way about our furry friends!