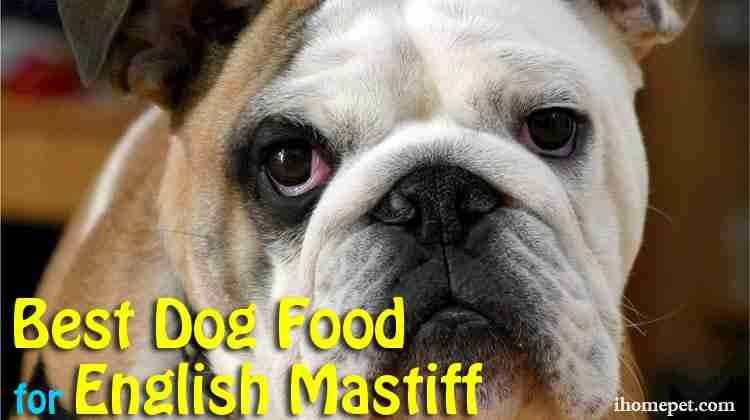 Do you own an English Mastiff? Then one of the crucial things you'll need to get would be the best dog food for English Mastiff. Through making the right investment in your dog's food, you have the assurance that he continues to grow big and strong. But amidst all these dog food brands and flavors, which one do you think your pet will enjoy?
Read on as I show you the best dog food for Mastiffs to help you out!
Feeding Your English Mastiff
The English Mastiff is a large breed and one of the most ancient types of breeds known today. Because of its build, they require a lot of food and exercise. But before getting into the reviews of dog food, let's first learn about the typical diet of an English Mastiff to give you an idea of what they eat and how to feed them.
English Mastiffs grow very quickly during the first 18 months, so right feeding is crucial during these months, as it won't be compensated later. I recommend a protein or pure meat-based diet for English Mastiffs. Puppies need more protein compared to adults, requiring up to 27% of protein and 15% of fat. For adults, they need up to 25% of protein and 10% of fat.
An English Mastiff should weight between 160 to 230 pounds. Active Mastiffs that weigh about 200 pounds should have an intake of 3,700 calories. Those who are around 160 pounds require 3,500 calories a day. Older or spayed/neutered dogs may need a bit less than that. This all depends on the calorie levels and weight.
You should feed an English Mastiff around six to eight cups of dry dog food a day, divided into two mealtimes. This may be more or less, considering his weight and if you would like him to either gain or lose a couple of pounds. Of course, you must match this with exercise such as walking, running, or playtime.
The Best Dog Food for English Mastiff
Based on my research, testing, and overall customer reviews, here are the top three English Mastiff best food you can check out:
1. Fromm Family Foods Gold Nutritionals Dog Food

What's excellent about Fromm is that it has the natural ingredients and a high protein content for your English Mastiff. It has omega fatty acids and cartilage for better joint health and brain development. With probiotics as well, it helps aid in digestion and a healthier coat.
Larger breeds like the English Mastiff can take advantage of this for the overall health benefits, keeping their coat and body healthy and strong. And yes, my dog enjoyed every bit of it, even as a picky eater. It's a great product, and my dog is filled with nervy and a shinier coat. Though it's a bit pricey, it's worth the investment!
2. Wellness CORE Natural Grain-Free Dry Dog Food

If you're planning to feed your English Mastiff a grain-free diet, then I would recommend Wellness Core, which contains grain-free ingredients and focuses more on protein. It suits the larger breeds protein needs and has all-natural ingredients to keep their coats and bodies active and healthy.
It contains the essential nutrients and protein to keep my English Mastiff's digestion strong and his bones moving well. I have noticed a better coat and energy after a few days of my dog eating this. He loves it a lot, and his stools have never looked healthier. You can even find other types of flavors to suit your dog's taste buds, as well as one fit for puppies or with reduced-fat.
3. BLUE Life Protection Formula Adult Dry Dog Food

What I like about Blue Buffalo is that they have several flavors and a variety of sizes to choose from so you can either test it out or purchase it in bulk to save money. For the large breed like the English Mastiff, who requires more protein, I recommend the Chicken and Brown Rice recipe.
It contains the protein-rich and flavored deboned chicken with wholesome grains. It does the simple and crucial job of keeping my English Mastiff filled with energy while enjoying his food. He loves having this and has had better stool and skin. Another plus is that it's at such an affordable price!
Hope You Enjoyed!
Finding English Mastiff dog food can prove to be quite difficult for new dog owners. But as long as you do the right research and scour through legitimate product reviews like these, you'll have an idea on what to invest in.
I hope that this article on the best dog food for English Mastiff helped you out! So don't wait any longer and begin feeding your dog the quality food he needs today.
If you have any question or would like to share your tips and reviews when feeding your English Mastiff, then comment down below. I appreciate it!

Hi! I'm Karen and a certified dog lover. As a freelance writer and blogger, I do my best to squeeze in some time with my dogs, learning more about the way they act and how I can make sure that they continue to stay well-cared for by yours truly.
My dogs have helped me through a lot, and this is my way of giving back to them! Besides animals, I also love to travel and cook, having explored my country's restaurants and unique places. Follow me as I show you all the amazing tips and bits of information I learn along the way about our furry friends!