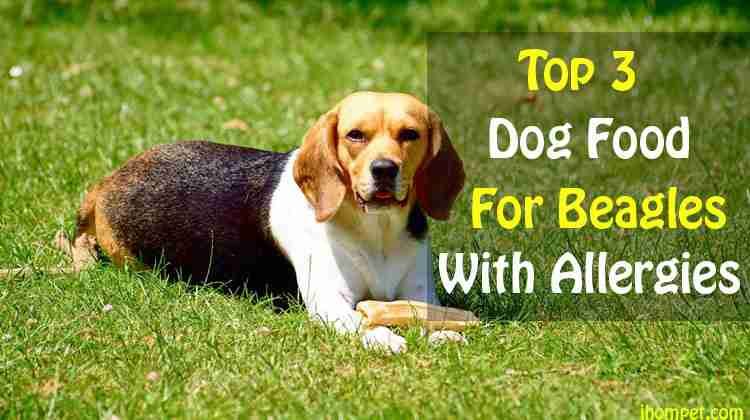 If your Beagle suffers from allergies to certain types of food, then he will need to have a diet free from common allergens. This calls for the best dog food for beagles with allergies. But it can get quite difficult pinpointing what brands to trust when it comes to regulating your dog's diet. That is why I did my research and gathered the best dog food for Beagles with sensitive skin or stomachs. Do read on to know more!
Choosing the Best Dog Food For Beaches
Before we get on to the best dog food for beagles with allergies, I'll show you some tips on choosing an effective one.
One of the culprits of food allergies in dogs would come from protein. Usually, it comes from beef, chicken, wheat, and dairy. That is why many dog owners opt to feed their Beagles grain-free dog food with only natural ingredients.
I recommend that you look for hypoallergenic dog food, which contains salmon and potato, or lamb. These ingredients are known to not produce any allergies and help with digestion. Even simple carbohydrates like rice are known to be hypoallergenic and healthy sources of carbohydrates for those with allergic reactions.
It's best to feed your dogs dry food first, as there are Beagles who are sensitive to canned or wet food.
You will know if your dog is allergic to his food or the things he eats if he suffers from the following symptoms:
Intense scratching of the ears and feet
Ear and skin infections
Vomiting
Diarrhea and excessive gassiness
If the symptoms persist despite changing his dog food, contact a veterinarian immediately to find out your Beagle's food intolerances and how to prevent them.
When feeding Beagles hypoallergenic dog food, it will take time to see results. You can see an improvement in about four to six weeks of feeding your Beagles a special diet. Make sure that with the diet, you avoid other types of food, even treats, and flavored medications. Continue the diet for ten weeks to see if the dog food works to treat your Beagle's allergies.
Top 3 Best Dog Food For Beagles With Allergies
Based on my research, tests, and overall customer reviews, here are the top three best dog food for beagles:
1. PS For Dogs Hypoallergenic Dog Food

What's excellent about PS For Dogs is that it comes with the hypoallergenic protein like lamb and turkey, which has been known to resolve any skin issues. It's free from any grains and still contains the necessary protein your Beagle needs for health and energy.
It even has the excellent flavors that my dog enjoys, and he's such a picky eater! The dog food has helped in lessening his itchiness and any skin infections. Plus, he smells better after two to three months of feeding this to him. It's soft and tender and easy to eat, and I recommend this for just about any dog owner with a Beagle or equally-sized dog breed.
2. Purina Pro Plan Sensitive Stomach

Purina Pro Plan is a reputable brand, with this dog food holding no exception. It's made out of salmon and rice, both of which are hypoallergenic ingredients safe for dogs to consume. Not only is the salmon a great source of protein, but it contains the Omega fatty acids to maintain the silky and healthy coat of my Beagle.
After a few weeks of feeding this to my Beagle, I have noticed a huge change in both his skin and stool. I can vouch for its natural ingredients and effectiveness. My dog loves the food and continues to eat it, enjoying the flavors and having a healthier stomach.
3. Taste of the Wild, Canine Formula

I appreciate the fact that Taste of the Wild comes in various sizes and the hypoallergenic protein choices. I prefer salmon for its high protein content and Omega fatty acids, which have kept my dog's digestion and skin in ultimate health.
Another plus is that it has a grain-free formula to improve your dog's sensitive stomach, making his stool just right and without any problems. And at such a reasonable price, I recommend it for dog owners on a budget!
What Will You Choose?
It's imperative to feed your dog the best Beagles dog food to ensure a happy and healthy friend by your side. Not only will this eliminate health issues, but your Beagle will remain energetic, and you save up on hefty vet fees when preventing allergies from happening.
I hope that these three best dog food for beagles with allergies gave you an idea of what to invest in. So what are you waiting for? Choose between any of these three and see what's best for both you and your Beagle. Do comment your experiences down below!
Last Updated on 10/05/2022 by Karen Snow

Hi! I'm Karen and a certified dog lover. As a freelance writer and blogger, I do my best to squeeze in some time with my dogs, learning more about the way they act and how I can make sure that they continue to stay well-cared for by yours truly.
My dogs have helped me through a lot, and this is my way of giving back to them! Besides animals, I also love to travel and cook, having explored my country's restaurants and unique places. Follow me as I show you all the amazing tips and bits of information I learn along the way about our furry friends!