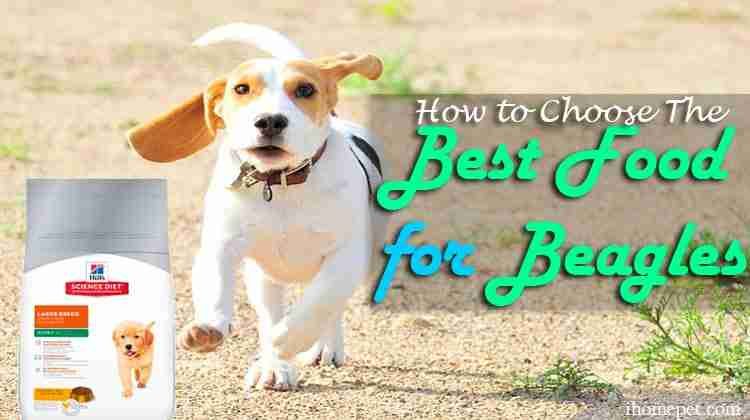 A crucial aspect you need to look into when caring for your Beagle would be what you feed your furry friend! They require the best Beagle dog food to stay active and healthy. After all, just like human beings, your dog will require the right type of food for energy and prevent any sicknesses. But what is the best food for beagles to invest in? Read on as I show you the top five brands I recommend.
Keeping An Effective Diet For Your Beagle
There are several factors to consider when choosing the right type of dog food for your Beagle. For starters, there is his age and activity. Puppies require more calories per day for their growing bones and energy. Adult and senior dogs require fewer, though active adult Beagles may need more calories.
Take note of the ingredients as well! I recommend food with meat or meat meal, filled with protein. There should not be a lot of grains, as it's low in protein and without much vitamins your dog requires. You might even want to consider going grain-free to prevent any food allergies. Once you have considered these factors, it's time to learn about how to feed your Beagle! Again, this depends on several factors, focusing on weight.
A 13-20 pound Beagle should be fed 1 to 1 1/3 cups of dry food per day.
A 21-35 pound Beagle should have 1 1/3 to 2 cups of dry dog food
A 36-50 pound Beagle should have 2 to 2 2/3 cups of dry dog (though this is usually for mixed breeds)
As for wet food, I recommend you to feed your dog one 3-ounce can for every 3 pounds of body weight daily. Apart from that, it should also be divided into two meals or more. Furthermore, remember to stay aware of any weight gain or loss and adjust the food intake accordingly!
Five Best Beagle Dog Food Reviews
1. NUTRO ULTRA Adult Dry Dog Food

I can say that Nutro Ultra is one of the best dry dog food for Beagles because of the excellent benefits it has given to my furry friend! It contains all the proteins my dog needs, including chicken, salmon, and lamb. The food is rich and filled with flavor, and I can see that my Beagle enjoys having it every day.
The dog food has NO form of chemicals, grains, or preservatives. With that being said, it's entirely healthy and safe for consumption, crafted with vibrant superfoods and nutrients to keep your dog happy and healthy. My dog has firmer stools and is satisfied with the food. As for his health, he's doing awesome and continues to be an energetic dog with no issues!
2. CESAR Savory Delights Adult Wet Dog Food

If you prefer wet dog food for your Beagle, then I would recommend Cesar's wet dog food, which comes in many types of flavors and packed with genuine meat and protein your Beagle will need. It has the complete and balanced nutrition required, fortified with vitamins and minerals.
The Angus Beef provides the subtle flavors that my dog appreciates. I also find it convenient to feed, as the trays and can is easy to open and serve to. With a variety of flavors and many ways to serve it, it's the quality dog food many dog owners will want. It's definitely worth the price, as my Beagle is in love with this food.
3. Solid Gold Holistic Grain-Free Dog Food

If you're looking for a wet dog food that is grain-free and with the many flavors to choose from, then go for Solid Gold. I like that it comes in an easy-open can, so I can take it out and serve it without the hassle of preparation. It's formulated with vegetables.
Also, it aids my dog's digestion because it's an excellent source of fiber. Because of feeding this to my dog, he hasn't experienced any diarrhea or allergic reactions. In addition to that, he continues to stay happy and energetic, loving the flavors.
It has no grains whatsoever and can be for the pickiest of eaters. Not only that, but it's also one of the best puppy food for Beagles as well! I recommend you to mix it with dry dog food for better nutrition and consistency for your Beagle.
4. BLUE LifeProtection Formula Adult Dry Dog Food

BLUE Life Protection comes in a huge bag for hassle-free feeding. It saves you the money and hassle of buying multiple bags. As for its flavor, I believe that Beagles would appreciate the taste and will eat it all up. Even the pickiest of eaters will want to try this out.
It's made out of delicious and protein-rich deboned chicken. Besides this, it has the wholesome veggies and grains. And without any preservatives, your dog will have better digestion and health. Plus, the kibbles are small enough for your Beagle to chow down without the worry of him choking or pushing the food away.
5. NUTRI Wild Frontier Grain-Free Natural Adult Dry Dog Food

Now, this is one of the ultimate dry dog food for adults! The Nutro Wild Frontier contains the real meat and grain-free ingredients designed for the adult Beagle. Its most noteworthy feature is its protein-rich ingredients. Wild Frontier also promotes the healthy and lean body your dog deserves.
The food is filled with vitamins and nutrients. Besides that, the dogfood has clean and non-GMO ingredients for ultimate health and energy.
Upon feeding my dog this, his activity level and coat have improved a lot after a few weeks. Consequently, he looks forward to mealtimes, even more, enjoying the taste the food has to offer. Due to the positive effects it gave to my dog, I would recommend this for Beagles with skin problems or owners who want their dogs to be stronger with a proper protein-rich diet.
There You Have It!
These five best beagle dog food brands will keep your furry friend happy and energized for the long run. Also, you won't need to worry about budgeting or the safety of your dog with these quality foods. So don't wait any longer and start making the wise investments when feeding your Beagle today.
I hope you enjoyed the article. If you have any more questions or would like to recommend more products and dog food, then post your comments below. I would love to hear what you have to think.
Last Updated on 10/05/2022 by Karen Snow

Hi! I'm Karen and a certified dog lover. As a freelance writer and blogger, I do my best to squeeze in some time with my dogs, learning more about the way they act and how I can make sure that they continue to stay well-cared for by yours truly.
My dogs have helped me through a lot, and this is my way of giving back to them! Besides animals, I also love to travel and cook, having explored my country's restaurants and unique places. Follow me as I show you all the amazing tips and bits of information I learn along the way about our furry friends!