Using a collar on your Bully is fashionable, fun, sophisticated, bedazzling and quirky. You must have read or been told lots of times how collars are not safe or convenient for your bulldog.
When you have the best collar for English bulldog, you need not be concerned about these perceived collar inconveniences. If your Bulldog is a gentle walker, stay with us and know how to choose the best collar for your English Bulldog.
Features of the Best Collars for English Bulldog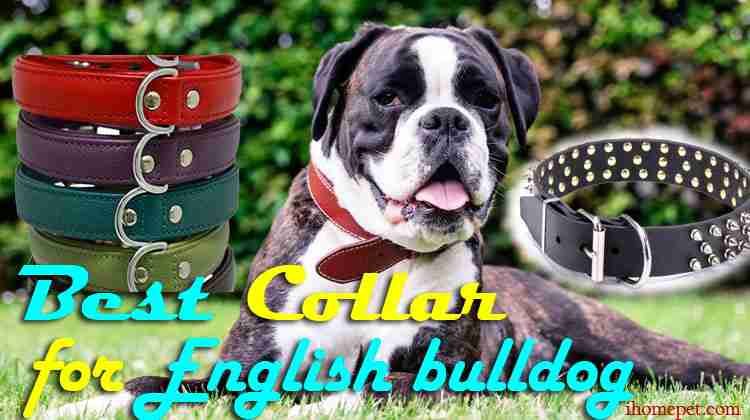 For a Bulldog Collar to be classified as the best, it needs to meet certain criteria. Some of these are:
Material: The collar material has to be soft and easy on the Bulldog's skin. Leather collars are generally comfortable, unlike nylon collars. They are also less likely to cause itching and shedding at the point they stay in contact with skin.
High strength: Due to the Bulldog's massive strength, the collar has to withstand the constant pulling. It should not snap in an instant when the dog pulls while the collar is on his neck. Leather collars are preferred over synthetic collars here too. They will last for quite some time.
Fit: This is essential for the safety of your dog. A too tight collar might choke him while a too loose one will slip off the dog's neck. The best one will match his neck size perfectly.
Aesthetics: Although not much of a concern, but the collar should be appealing to the eye. The English bulldog won't like it very much when you strap some "not so good-looking" collar on his neck.
Best Collar For English Bulldog In The Market
1. Spiked Studded Leather Dog Collar

This collar is made from soft genuine leather. It is well suited for your English Bulldogs with a neck size of between 17.5 inches to 22 inches.
Additionally, the good news is that it can be used for other dog breeds as well. So, if you also own a German Shepherd, Labrador or any other breed, you can get them one too.
This collar is lined with spikes that are chrome plated. The spikes aid in dog defense in case of attacks. The collar is made with a D-ring at the center to give you better control of the English bulldog.
2. Leather Braided Dog Collar

This is a 24 x 1.25 inches English Bulldog collar. It is made from 100% genuine leather. The leather is oiled and is complemented by brass hardware parts. The brass hardware parts from the buckles.
Plust, this is one of best collars for English bulldog and it is braided at certain points around the buckles for more flare. This quality collar is availed in brown and black colors in sizes of 16 – 24 inches.
You have to determine the size of your dog's neck first before settling on any collar.
3. Leather Padded Dog Collar

This double ply leather collar could just be what your English Bulldog needs. The double ply affords it more strength and durability. This collar is padded to provide comfort to your dog. Cowhide leather is used in making this trustworthy collar.
The collar is available in a variety of radiant colors to befit your taste. If you have measured and determined that your Bull's neck size ranges from 17.5 inches to 22 inches, then you can proceed and get one for him.
4. Leather dog collar

This Techeer heavy duty collar is well suited for large or medium sized dogs. It is among the best collars for English Bulldogs. Adaptability of this brown collar is provided with 6 adjustment holes for adjusting the kind of fit you want. You can then use the hole that is neither loose nor tight for your dog.
This collar can be used for dog training, walking, patrolling and dog show. The stainless-steel buckles together with the leash ring have been given a lacquered finish and are made to military grade standards.
5. Leatherberg Leather Dog Collar

This is a 1 inch wide and 20 inches long English Bull collar. It is perfect for all the other medium sized dog breeds. Moreover, the design is such that it gives your dog a pain-free walk with the unique placement of the D-ring. The engineering is such that the dog is not able to break free from the collar and leash.
It is one of the best available leather and it is used to make this long-lasting and comfortable product. This collar is double stitched with metal rivets inside for more durability. This product is tried and tested and has withstood all those tests, even the test of time.
Buy The Best One For Your English bulldog
The best collar for English Bulldog should be one that is comfortable to your Bulldog, does not break easily, does not slip off the dog's neck in the first instance of the dog trying to get it off and fits perfectly on his neck.
It is then that you can attach the leash so that you can guide your best friend around. Make sure that you choose one of the brands that we have discussed above with your great friend. There is no harm as well in buying all the five to use interchangeably on your English bulldog.
Last Updated on 21/07/2022 by Karen Snow

Hi! I'm Karen and a certified dog lover. As a freelance writer and blogger, I do my best to squeeze in some time with my dogs, learning more about the way they act and how I can make sure that they continue to stay well-cared for by yours truly.
My dogs have helped me through a lot, and this is my way of giving back to them! Besides animals, I also love to travel and cook, having explored my country's restaurants and unique places. Follow me as I show you all the amazing tips and bits of information I learn along the way about our furry friends!