The presence of animals on domestic flights has always been a touchy subject. Now things are even more complicated due to a controversy about emotional support animals. That's why it's important to be especially vigilant when you're flying with a pet.
Flying with a dog or cat isn't ideal, but sometimes you don't have any other options. And it isn't just about comfort. If you don't follow airline regulations to the letter, you might not even be allowed to board.
Do you plan on flying with a pet anytime soon? There are several steps you can take to make it as seamless and relaxed as possible. Your wallet and a furry friend will thank you.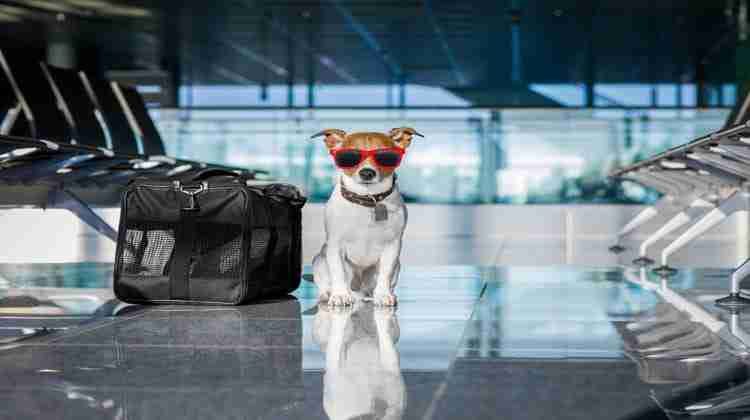 Flying With a Pet? Get On Board With These Ten Top Tips
Between airline guidelines and pet comfort, there's a lot to consider before taking your companion aboard. I know I can hardly stay seated for an entire flight. How can we expect our pets to make the trip?
They're going to need your help. Here are the top ten tips for flying with a dog or any pet for that matter.
Pick the Right Airline
Even when you're flying alone, it's difficult to choose the right airline. You have to consider prices, amenities, and more. Unfortunately, it's even worse when you want to bring your pet aboard.
Every airline has its own specific pet policy. These include which breeds of dogs are allowed, along with weight guidelines. Some airlines don't allow pets at all.
While you can find this information online, it's best to call the airline directly. They can give you a clear answer before you spend hundreds of dollars on a nonrefundable ticket!
Know Your Dog
As much as we all love our pets, we have to face the facts: Some animals are more sociable than others. Even if your pet is within a carrier's guidelines, ask yourself if they can handle the stress of flying.
It's not something for everyone. You don't want to be removed from a flight because your yappy pet is disturbing the entire cabin. If you don't think your dog or cat is fit for flying, consider an alternative option, such as a dogsitter.
Book a Flight in Advance
You should always book a flight as soon as possible to snag the best rates. But when you're bringing your pet along, it's a necessity.
Airline carriers only have a few spots available for pets. By a few, I mean two or three. Once these spots are booked, there won't be room for your furry friend.
By reserving your spot in advance, you're more likely to snag a seat for your pet before they're all gone. Otherwise, you'll have to find another flight if you still plan on bringing them with you.
Visit a Veterinarian
Many airlines require a recent health certificate for your pet. To get a health certificate, you need to visit your veterinarian for a checkup. The veterinarian will make sure your pet has all the vaccinations it needs for safe travel.
Even if your airline doesn't require a pet health certificate, it's better to be safe than sorry. Take note of the airline's timeframe. They typically want a signed health certificate no older than about two weeks.
Train for the Trip
Is your pet accustomed to its kennel? Since they'll be in the container during the entirety of the trip, you need to train them in advance. They should think of it as a safe space — not as a prison.
But it's not just about getting cozy. You'll want to be sure they can hold their bladder and avoid having an accident on the plane.
Get the Right Kennel
Along with breeds and weight limits, airlines also have guidelines for kennels. Generally, they're required to be no larger than a certain size but still provide adequate space for your pet.
Since all airlines have different rules, you should become familiar with the airline of your choice. Or keep it simple and purchase an airline approved kennel.
Remove Excess Energy
Keep your pet calm by tiring them out in advance. This is intended to lessen their anxiety but also encourage them to sleep through most of the flight.
Before the flight, take your pet to the park or out for an extended run. If you have a very energetic pet, you might want to spend the whole weak gradually wearing them out. Maybe it'll help you sleep too!
Manage Food and Water
As another precaution to avoid in-flight accidents, be mindful of when you feed your dog. It's best to take the food bowl away a few hours before the flight. Anxiety doesn't mix well with a full stomach.
The same is true of water. Provided it's a shorter flight, don't let them drink an hour or two before you board. But if you're really worried about a dehydrated pet, you can line the bottom of their kennel with absorbent padding.
Find a Pet Relief Area
Every airport is required to have a pet relief area. These are intended for service dogs, but you're free to use them as well. They are usually nothing more than a bit of astroturf.
Before you board the flight, take your pet to a relief area. They may not have to pee or want to but it's better to give them a chance while they can.
Avoid Sedatives
Some owners give their pets sedatives to calm them down before a flight. Although it might be tempting, don't use a dog sedative for flying.
Sedatives can cause temperature and respiratory complications. If your pet can't handle the stress of flight without sedatives, they'd be happier to avoid the trip entirely.
Experience Travel With Your Furry Friend
Yes, flying with a pet can be stressful. But don't forget to enjoy yourself once everything is said and done. Whether you're moving house or going on a vacation, traveling is an exciting and fulfilling endeavor.
And it's even more fun when you bring your pet along! So what are you waiting for? Purchase those tickets you've been thinking about and bring your pet with you on your next adventure.